Senior Center announces winners of essay contest
This article submitted by Linda Stelling on 6/2/98.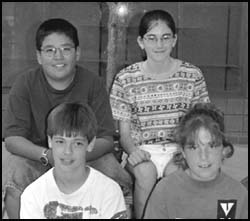 For May is Older American Month, sixth grade students wrote essays about their favorite senior citizens be it their grandparents or another individual in their lives.

The essays were judged at the Paynesville Area Senior Center and David Butler and Jena Spaulding were named the winners. Second place honors went to Jesse Yarmon and Holly Bennett. Finalists were Jordan Haag, Trisha Wendlandt, John Berry and Tyler Kochman.

Their essays will be sent on to the Minnesota Board of Aging in St. Paul where they will be judged along with other top essays from throughout the state.

The state winners will read their essays at the Minnesota State Fair on Senior Citizen Day.

---