PHS Marching Band holds outdoor concert
This article submitted by Linda Stelling on 6/2/98.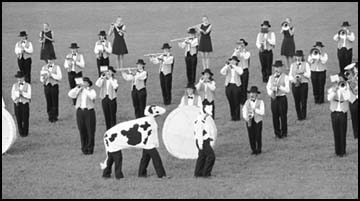 The Paynesville Area High School Marching Band presented an outdoor concert on Friday, May 29.

The concert had a western theme with such songs as ďThe Horse,Ē ďHappy Trails,Ē music from ďRawhide,Ē and ďGreat Moments in Cinema,Ē and others.

The band members, under the direction of Bryan Mara, presented portions of their summer marching routine.

The band will be performing in five parades this summer. They are: June 14 at Benson; June 17 in the Town and Country Days parade; June 19 to 21 in Winnipeg, Canada; June 24 at the Foley parade; and on June 27 at the Willmar parade.

The annual band awards were presented during the concert. The Louis Armstrong Jazz award went to Amy Strand; John Phillip Sousa Award, Janel Schefers. The Spirit Award goes to a senior boy and girl. Receiving the award were Maria Wegner; and Andy Brick.
---