Congressman Minge tours Paynesville businesses
This article submitted by Linda Stelling on 6/2/98.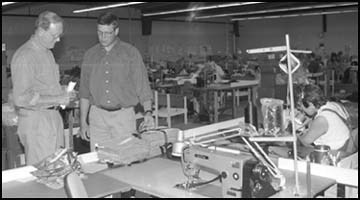 U.S. Congressman David Minge, 2nd District, toured three businesses Thursday in Paynesville. While in Paynesville, he visited with owners and employees at Koronis Parts, Louis Industries and Stearns Manufacturing.

Minge, shown above on left, talks with Stearns Manufacturing manager, Steve Guzy, about the plant's operation.

Stearns Manufacturing sews life vests and other things.
---