Richmond joins the hospital district
This article submitted by Michael Jacobson on 6/2/99.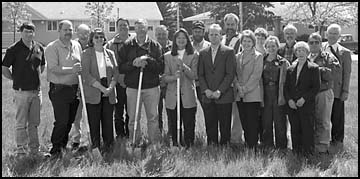 The Paynesville Area Hospital District expanded its membership base by one with the inclusion of the city of Richmond Wednesday night.

Because Richmond does not border the district, special legislation was needed for Richmond to join the district. The legislation, sponsored by Rep. Doug Stang (R-Cold Spring) and Senator Michelle Fischbach (R-Paynesville), passed in the recent session and was signed into law by Governor Jesse Ventura.

At their regular monthly meeting Wednesday, the board voted unanimously to accept the city of Richmond into the district.

The city of Richmond will now be able to appoint an official representative to the hospital board.

Richmond becomes the ninth entity in the district, and the first new entry since Eden Valley joined in 1995.

The hospital district also held a ceremonial ground breaking for a new clinic in Richmond on Tuesday, May 25. The hospital has received a zoning permit for the clinic, which allows for actual construction to begin this week.

The hospital board was also informed that the Richmond City Council had approved amending its parking ordinance, which could reduce the parking space requirements for the new clinic. A public hearing will need to be held in Richomnd on that issue.

*At the meeting Wednesday, the board was updated on a Roscoe city council meeting hospital representatives attended on May 12. Around 25 people were at the meeting, and the hospital representatives were asked lots of questions and stayed for over an hour.

*Within the next week, the hospital system should have increased connections to the Internet, with various new stations throughout the complex. The board was given an example of a computer-use policy. The object of such a policy would be to set standards for appropriate use of work time and of hospital system equipment.

The policy issue will be addressed again at another hospital board meeting.

*The board approved appointing Jason Peterson, D.C., to the ancillary staff at the hospital for a 12-month provisional period.

*The board was told that Dan Lillquist has started his PA preceptorship at the hospital system.

*The board rescheduled its June meeting to June 30. The board also moved meetings to Sept. 29 and to Nov. 17 for this year. All meetings are at 8 p.m. in the Blakely Room at the hospital.
---