Ophoven is new director of nursing at Good Samaritan Care Center
This article submitted by Linda Stelling on 6/2/99.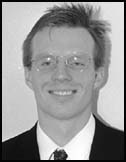 Jay Ophoven, is the new director of nursing at the Good Samaritan Care Center, Paynesville.

A native of St. Joseph, he attended St. John's Prep School and graduated from St. John's University with a bachelor of science degree in nursing. Ophoven did his internship in the rehabilitation unit at the St. Cloud Hospital.

Ophoven has worked four years with the Good Samaritan Society in their Minneapolis office. Eight months ago he was transferred to Hilltop Good Samaritan Center, Watkins, then took the full-time position at Paynesville.

Ophoven will supervise the nursing staff at the Paynesville Good Samaritan Care Center. There are 10 nurses on staff and 12 assistants. He will also oversee the medication system, infection control, quality assurance, keep updated on the health care regulations and legislative initiatives, establish annual goals for the nursing department, and work to strive toward those goals.

"I first need to get myself organized in my new position and familiarize myself with the history of the facility," Ophoven said. "Good Samaritan Care Center is a board and care facility and we are here to meet the needs of the community."
---