Liebl to appear on Children's Miracle Network fund raiser
This article submitted by Linda Stelling on 6/2/99.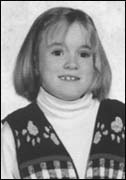 During the weekend of June 5 and 6, Gillette Children's Specialty Healthcare holds one of its major fund raising events of the year: The Children's Miracle Network "CMN Champions" broadcast.

The broadcast, originating from Walt Disney World in Orlando, Fla., will be televised nationwide starting at 8 p.m,. June 5.

The program includes live local segments aired from KMSP-UPN 9 and features Gillette patients from across the region.

Danielle Liebl, 8, Paynesville, will be among eight children who are patients at Gillette Children's Specialty Healthcare in St. Paul selected to appear on the broadcast, representing Gillette Children's Specialty Healthcare.

The daughter of Mike and Sherri Liebl, Danielle has cerebral palsy. Before her first surgery to derotate the bones in her legs, she was pretty unsteady on her feet. If someone walked by her quickly, she'd tumble over, says her mother, Sherri.

Danielle first went to Gillette's Motion Analysis Lab so that doctors could pinpoint the cause of her walking problems and determine the best treatment. Soon after, Danielle had derotation osteotomies to straighten the bones in her legs...bones that had become twisted as the result of the spasticity in her muscles.

Knowing that surgery could help her keep up with her friends was the motivating factor for Danielle, her mom recalls. "Danielle said, "I'll have the surgery if I can run and jump and play with my friends."

"After her surgery we noticed a huge change," her mom says. "Today, Danielle not only runs and plays, but has learned to ride a bike using training wheels. Her goal now is to learn to ride without the extra wheels. "Her attitude is, 'I'm going to do it no matter what,'" Sherri says.

To reach that goal, Danielle is still trying to conquer another hurdle. A condition called ataxia causes uncontrolled, sporadic jerking in her hands and arms making it hard for her to keep them steady. She's currently seeing a neurologist at Gillette to explore whether anything can be done to help her control the condition.

In the summer of 1998, Danielle decided (after some hesitation) to enter the Little Miss Dairy Queen pageant in Paynesville, an event to raise money for CMN. To her surprise, she walked away with the crown.

"She as so excited," Sherri recalls. "She just couldn't believe that she won." Danielle will be appearing on television at the following times: Saturday, June 5, 8 p.m. for a live interview and 11:30 p.m. (taped); Sunday, June 6, 6:30, 9:30, and 10:30 a.m. and 4:15 p.m.

Other children on the broadcast are Claire Bednarski, 11, Minneapolis; Colin Sullivan, 5, Eagan; Alex Stewart, 5, and his brother Levi, 4, Owatonna; Alexandra Whittaker, 12, Brooklyn Park; Aldo Hernandez, 9, Marshall; and Tadina Sauls, 14, Duluth.
---