Fischer retiring after 27 years as aide
This article submitted by Linda Stelling on 6/2/99.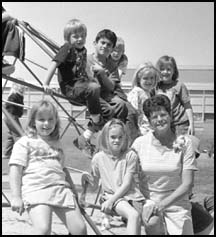 Julie Fischer was the first teacher's aide to be hired at the Paynesville Area Elementary School 27 years ago.

Friday marked her last day in the classroom as she retired to spend more time with her husband, Vic, and their grandchildren. "Vic has been counting down the days to my retirement. He is looking forward to us doing more things together," Fischer said. Vic retired 18 months ago. In her early years at the elementary school, Fischer worked with Nancy Alstead and Connie Wimmer in the first grade level. She later worked solely with Alstead.

"Gary (Heineman) hired me his first year here," Fischer said. "I felt being a teacher's aide was a job I could do but not have any work to take home which would interfere with family time."

Fischer said as the district funds improved, they hired more assistants.

Both Fay Hartert and Fischer move from room to room at the first grade level. Their mornings are spent working with students to improve their reading skills and during the afternoons they help with math or computer skills. "We help whoever needs it," Fischer said.

Fischer said the legislation for smaller class sizes has been wonderful. "The teachers have time to reach all the kids, which has been terrific," she added.

After retirement, Fischer plans on staying involved as a volunteer at the school in the lunchroom. She also has plans on gardening more and spending more time with her family.
---