Bands give dinner concert; marching band makes its season debut
This article submitted by Michael Jacobson on 6/2/99.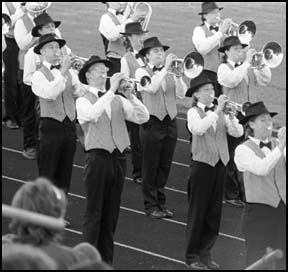 The Paynesville Area High School Marching band made its season debut at an outdoor concert on Monday, May 24. Starting at 8 p.m., they performed a field routine to Beatles' songs on the football field. Then they demonstrated their street routine while marching around the track.

Prior to the outdoor concert, a picnic supper and concert were presented in the high school gymnasium. The sixth grade band and the seventh and eighth grade band, under the direction of Ken Vork, performed while the audience enjoyed their dinner.

After the indoor concert, year-end awards were presented for choir, band, and drama.

For choir, three seniors were given Special Merit Awards. Using a system that rewards students with merit points, Mackenzie Merrill, Andrea Roeser, and Ed Gardner had accumulated enough merit points to be in the highest award category.

Gardner was also given the National School Choral Award, in which the choir members vote for the top choral student.

From the entire music department, Merrill received the Frederic Chopin Piano Award.

Outside, during a break of the marching band performance, Merrill was also given the John Philipp Sousa Award as the top band student. "She's talented, talented, talented, talented," Bryan Mara, high school and marching band director, told the audience, his voice trailing off. "I wish I had her talent."

Senior Brent Heinen was chosen for the Louis B. Armstrong Jazz Award. Lynn Stoneburner and Josh Jones earned Spirit Awards, given for outstanding attitude and dedication to band.

Despite an abbreviated spring practice schedule, due to all the rain in May, Mara was pleased with the marching band's performance. "We only had three or four days outside because of the weather," he said.

"We have a really good base back to build on," he added. With more practice, Mara said, the band would improve considerably by the time their parade schedule starts.

Mara asked the audience to attend lots of parades this summer, to sit by the judges' stand, and to cheer like crazy for the Paynesville band so the judges would be impressed with the band's crowd appeal.

The band has accomplished one of its goals for the summer already, by being asked to perform in the Alexandria parade on June 27. Admission into that parade is by permission only. Around 30 bands will compete there, and the parade will be televised.

They also will be taking an eight-day trip to Boston and New York in the early part of July to end this year's marching band season. They are scheduled to march in four parades in the Boston area.

Helping Mara with the marching band this year are: Ken Vork, assistant director; Jeremy White, drum line; and Allen Murphy, color guard.
---