Since getting an $85,000 donation in 1995, Payneville Area High School has spent over $32,000 on technology equipment while spending only the interest.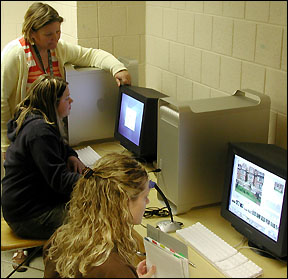 This school year, the grant provided the school with a new camcorder, a digital camera for the school newspaper, and two G5 Power macs for the library. These new computers have more power and memory than the other ones in the library. They are used for burning DVDs and making iMovies in certain classes.
Media specialist Joan Nevitt helps juniors Michelle Megadanz and April Osendorf work on the new computers that were provide by a grant.
The $85,000 donation was given to PAHS by Carol (Palmer) Weaver, a 1922 Paynesville graduate. Only the interest on the donation is spent each year. The original amount of the grant was $85,000, and over the years $32,000 of interest has been spent.
Weaver was born and raised in Paynesville. She attended Paynesville schools and graduated from PHS in 1922. Weaver earned a teaching degree at St. Cloud State University and taught in Minnesota for over ten years and in Michigan for five years.
She and her husband, Milton, moved to California in 1946, where they raised chinchillas on their farm for over 20 years.
Weaver passed away in California in 1995 and left $85,000 to Paynesville Area High School in her will. Weaver wanted only the interest to be spent each year.
The average amount from the "Carol B. Weaver" grants that the high school spends per year is between $2,000 and $5,000. "When we first got the grant, the interest rate was about six percent. That made it almost $6,000 per year. Now, the interest rate is so low that we don't receive as much," said high school principal John Janotta.
An advisory group of four staff members is formed every year at the high school to determine where each year's grant share will be spent.
Through the years, the interest on the fund has bought a lot of new equipment needed in the high school such as: camcorders, a water pollution detection kit, couches for the library, a laminator, and a Flex cam for the science department.
"We don't know very much about Carol B. Weaver, but we sure are happy that she supported us so much," said high school media specialist Joan Nevitt.
---
Contact the author at paypress@lkdllink.net • Return to News Menu
Home | Marketplace | Community
---