After 27 years of being the school nurse in Paynesville, Beth Realdsen has decided to retire. Since starting in 1976, Realdsen has taken care of the nearly 4,000 students who have passed through the Paynesville Area School District.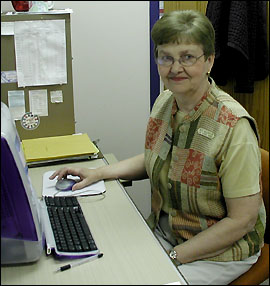 In a typical day, she sees anywhere from 35 to 50 students. She sees some students everyday who are diabetic, asthmatic, or who need medication daily. She also helps students who have sore throats, stomach aches, or other injuries, everything from scraped knees to common colds. Health issues vary depending on age groups and the time of year, she said.
Beth Realdsen is retiring this spring after 27 years as the school nurse.
When Realdsen started at the Paynesville schools as a registered nurse, she and another licensed practical nurse split their time between the schools. Due to budget cuts, she covered all of the schools at one time, though later on Nan Looman was hired to work as a nursing assistant.
Currently, Realdsen and Looman alternate days between the elementary and middle/high schools. Some of the changes that Realdsen has seen since she started as a school nurse include keeping health records on computer, filling out more paperwork (which is the biggest part of the job now), seeing less respect from students, and noticing more kids getting ready by themselves in the mornings because both parents are at work.
There is more paperwork now because more immunizations are required for children than there used to be, said Realdsen. She also needs to document signs she sees of child neglect or abuse, because if she ever reports a case she needs several documented incidents, not just one.
Realdsen said she can tell which kids get ready without a parent at home in the morning because they tend to come to her office right off the school bus if they have a stomach ache, sore throat, or other problem. Because they had nobody to tell at home in the morning before they left, they rush to see Realdsen immediately.
Kids are growing up in a different time these days, according to Realdsen. She has seen a definite rise in obesity during her tenure as the school nurse, which worries her because a lot of health problems can come from being overweight.
She blames the rise of obesity on changes in eating habits, such as eating more snack foods, and drinking pop, and inactivity caused by interest in video games and TV. When she was younger they didn't have a TV and they had to make their own fun, she said.
Realdsen attended the Lutheran Deaconess Hospital School of Nursing in Minneapolis for three years (from 1962-65) and earned her diploma in nursing.
She worked as a surgical nurse, as a hospital nurse, and in a nursing home before joining the Paynesville Area School District in 1976. She worked at hospitals in Willmar, Crookston, Lamberton, and Paynesville and at a nursing home in Cold Spring.
In 1976, she received a job offer from former principal Chet Bartz to become a school nurse in Paynesville. Realdsen said she was happy to take the job because her two daughters were in school here and her husband taught in the middle school so their schedules all matched when she started working at school.
When she started as a school nurse, she had to switch her focus from acute cases like she saw at the hospital to more everyday ailments. She was most insecure about helping kids with asthma. Because of that, she decided to go to an asthma camp, where she and respiratory therapists and other doctors helped children with asthma. After that, she felt more comfortable helping kids with asthma.
Some differences Realdsen noticed between being a surgical nurse and a school nurse was that she got more direct satisfaction as a surgical nurse because she could see someone recover and be on their way. At school, she didn't see such big recoveries.
Realdsen, who still enjoys her job, has made the rule of 90, which qualifies her for full retirement. She said she is also ready to retire because she wants to have more time to enjoy her hobbies: gardening, horseback riding, quilting, embroidery, reading, spending time at the lake, and watching high school baseball games that her husband, Dick, still helps to coach. She will also get to spend more time with Dick, who retired from teaching in 2000.
(Editor's Note: Also retiring this spring from the Paynesville Area Public Schools are teacher Bob Bowden and superintendent Howard Caldwell, who will be featured in upcoming weeks.)
---
Contact the author at editor@paynesvillepress.com • Return to News Menu
Home | Marketplace | Community
---