Mother's Day is always a special occasion for moms, but this year it was especially meaningful for Marylin Fuchs and Judy Kulzer: their sons returned from a year-long deployment in Afghanistan just days before the holiday.

Sergeant Jon Kulzer and specialist Leon Fuchs - both 2000 PAHS graduates and both members of the 367th Engineering Battalion - are glad to be home. The men agree that they learned a lot from their experience: Kulzer about the importance of caring for other people, and Fuchs about the value of making new friends and building relationships.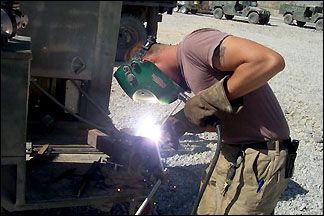 They returned home in early May along with the rest of their St. Cloud-based unit, which also includes Jeremy Fuchs, a 20002 PAHS graduate, and Crystal Ring, a 2003 PAHS graduate. They were deployed to Bagram Air Base in Afghanistan in April 2004.
Specialist Leon Fuchs welds on a truck at the Bagram Air Base in Afghanistan. Fuchs returned in May from a year-long overseas deployment where he was the only welder on the base.
Though Kulzer's official job was as a carpenter, helping medics tend to the local people in the area surrounding Bagram Air Base had the most profound effect on Kulzer. Though he could only do this in his spare time, he saw people with gun-shot wounds, burns, and other serious injuries and helped transport them to the base hospital.
"The worst part of the deployment was seeing injured or dead kids," Kulzer said. Tending to burn victims became commonplace, he said. Because the local people can't get the proper fuel for their lanterns, they substitute gasoline, which frequently blows up when the lanterns are lit, he added.
Kulzer also enjoyed doing village assessments to determine what the locals needed so aid organizations could provide everything from food and blankets to school supplies and toys for the villagers.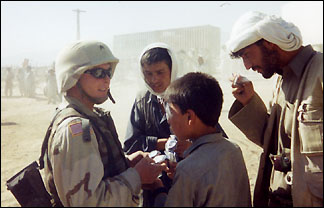 As the only military welder on the base, Fuchs was kept busy taking care of everything from the pipes for the base plumbing to welding the huge trucks the unit used to find and detonate mines. But being the only official welder didn't mean he worked alone, he said. Several guys in his unit were welders in their civilian jobs and were usually more than happy to lend a hand, he said.
Sergeant Jon Kulzer - shown speaking with Afghani villagers during a patrol - felt the best part of this year-long deployment to Afghanistan was helping the local people.
It's that camaraderie and the friendships he built that he will miss, he said. "After you live and work with them for a year, you consider them family," said Fuchs.
The 367th Engineering Battalion left St. Cloud in February 2004. After a training period in Wisconsin, they left for Afghanistan in April 2004.
Officially, the 367th was in Afghanistan to provide engineering support for the base. Members of the unit were to build structures to make the soldiers there more comfortable, improve the infrastructure, and keep the base in good repair.
But a good part of the unit's mission was also to find and destroy mines, said Fuchs, and maintaining the equipment for that task was one of his jobs. "This just shows the versatility of an Army Reserve unit," he said.
While most of his work wasn't dangerous, the base did encounter sporadic mortar attacks that would keep everyone on guard for a few days, said Fuchs. After a while, everyone would relax, and then a warning would come over the loud speakers, telling the soldiers to take cover again.
Still, Fuchs rarely felt unsafe. "Sometimes I felt safer there than on the streets of Minneapolis," he said.
Kulzer, who spent more time off base, faced more danger. During a period when he was part of a weapons recovery team, one of his duties was to enter the homes or businesses of local people reported to be harboring weapons. (In Afghanistan, a household is only allowed to own two AK-47s and one handgun.) But even though the mission was dangerous, the 367th Engineering Battalion came home whole, with no deaths or serious injuries.
During their year in Afghanistan, the living conditions at Bagram steadily improved, said Fuchs. Soldiers typically live in air-conditioned barracks with recreational facilities nearby. All of the soldiers had computer access, making it easy to keep in touch with family. And during their time off, soldiers could visit one of several coffee shops on base or even have dinner at the base Burger King, said Fuchs, who especially liked sampling local foods at the coffee shops.
Even with the modernization attempts on base, the soldiers never really escaped the heat. According to Fuchs, the hottest day he recalled was 138 degrees. "People say it's not so bad because it's a dry heat," he said. "Well, that doesn't matter! 138 degrees is just hot!" he exclaimed.
The heat was especially bad for Fuchs when he was welding, which required heavy protective clothing. Coming home has been an adjustment, but both are adapting well to the civilian world. Fuchs, whose first task upon returning was to buy a new car, needed some time to adjust to the time changes, but that's coming along, he said. He figures he will take a little vacation before returning to his job as a welder.
Kulzer, who got engaged when he came home on leave mid-deployment, has adjusted well to home life and plans to return to his job as a siding applicator soon.
Kulzer and Fuchs appreciate the support they received from the Paynesville community during their deployment. Neither of the men have any regrets, though neither said they would volunteer to return. "I volunteered this time; next time they'll have to make me," said Fuchs, grinning.
---
Contact the author at editor@paynesvillepress.com • Return to News Menu
Home | Marketplace | Community
---