Randy Ziemer's goal growing up was to become a radio and television broadcaster. Never was his intention to become a teacher.

Ziemer - who retired from the Paynesville Area Middle School this spring after 34 years of teaching English - grew up in Welcome, Minn. He graduated with a class of 29 and went on to college at the University of Minnesota, Morris. He transferred to the University of Minnesota in the Twin Cities after two years at Morris and graduated in 1970 with a degree in speech communication and language.

A loan that Ziemer had taken out in college forgave part of the principal if he got a teaching position in a poverty area in Minnesota (which Paynesville was considered at the time). The loan would be forgiven at 15 percent per year if Ziemer took a job in Paynesville.

Ziemer planned to teach here for a few years to lessen the amount of his loan and then go back into his first plan of radio and television broadcasting.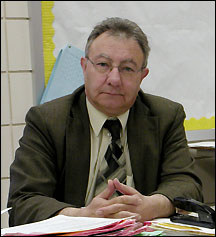 At a Gopher's football game that Ziemer attended, he heard from a friend that the Paynesville Area School District would have an opening in the middle of the school year. Ziemer had a Saturday interview at Paynesville and accepted the job as the eighth grade speech and language arts teacher.
Randy Ziemer retired this spring from the Paynesville Area Middle School after 34 years of teaching English.
For the 34 years that Ziemer has been in the Paynesville Area Schools, he has, for the most part, stayed in the English department of the middle school. This past school year he had three sections of seventh grade communications, a section of high school speech, and handled disciplinary issues in the middle school.
For one year, Ziemer took a leave of absence to serve on the Minnesota Education Association (MEA) board of directors (now called Education Minnesota). During this time, Ziemer worked with other people in education and bargained contracts, solved problems facing Minnesota education, and much more, he said.
Working on the MEA Board of Directors for 15 years, Ziemer feels, is one of the most important parts of his 34 years as an educator. His biggest accomplishment, he feels, is that he had a big hand in creating the January 15 closing date for collective bargaining. This means that if the school board doesn't settle with its teachers' contract before this date, they can lose money per student for every day they are late. This makes both sides come to an agreement much sooner, he feels.
On the board, Ziemer also got to debate the paying of teachers. The disparity, Ziemer said, between what teachers get paid in the metro area and what they get paid in rural Minnesota is crazy. They are doing the same job, Ziemer said, but getting paid differently.
His favorite part of teaching middle school, he said, is the interaction with young people. "The changes that they go through during middle school are radical. It's a wonderful thing to be a part of their maturation process," he said.
Seeing kids apply themselves and do well is one of the biggest rewards for Ziemer. He also enjoys seeing his students come back to his class when they are in high school elective speech.
Because Ziemer deals with all of the disciplinary problems in the middle school, he said he commends the parents of Paynesville students for the kinds of kids they raise. "A child is often a reflection of how they've been brought up. And 95 percent of the students here are great," he said.
In his years on the MEA Board, Ziemer said he heard lots of disciplinary stories from other schools, and he got a greater appreciation for the students in the Paynesville school system.
Ziemer said he won't miss some things about teaching. The politics involved, the budget cuts, and the graduation standards are things that Ziemer doesn't like about teaching.
For the most part, though, Ziemer enjoys his job and especially enjoys the interaction with young people. "I will miss that the most," he said. He still has mixed feelings and is questioning his own decision to retire.
There are many reasons why Ziemer has chosen this point in his life to retire. One of the biggest reasons is because he and his wife, Betsy, have relocated to Becker. The gas prices are a factor, he said, since he's spending much more on gas now than when he lived in Paynesville.
Since he has reached the rule of 90 and feels that he is still in good health, Ziemer thinks this year was a good year to retire.
Ziemer doesn't have any special plans for his retirement, yet. "So many retired teachers have told me not to rush into things. So I won't," he said. Ziemer may substitute around the area, but isn't certain.
He does plan to spend time doing his favorite hobby of baseball card collecting.
---
Contact the author at editor@paynesvillepress.com • Return to News Menu
Home | Marketplace | Community
---