Father Richard Leisen - pastor of St. Louis Catholic Church in Paynesville for the past 19 years - will be honored on Sunday for his 50 years as a priest.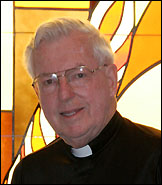 The celebration of the 50th anniversary of his ordination will begin with Mass at 10:30 a.m. at the church and will include an open house, short program, and dinner after the service.
This mile-marker is "not a big deal," for Leisen, who sees it as "part of the course of life." The years have gone by quickly, and it certainly does not seem like his ordination was a half century ago, he added.
Leisen has been the priest at St. Louis Catholic Church since 1987 and does not plan to leave his post. "I enjoy doing what I'm doing, so why not keep doing it?" he asked.
Originally from St. Cloud, Father Leisen knew in third grade that he wanted to be a priest, though he does not recall a particular event that led him to that realization. He and his family were involved in parish life at St. Mary's Cathedral before that, but as Leisen grew up, the church truly became a central part of his life.
He and his three siblings attended elementary school at St. Mary's. It was not uncommon for him and his older brother Leo, who also became a priest, to walk the mile from their home to St. Mary's, serve at morning Mass, and go home for breakfast before returning to the church grounds for school.
The Leisen brothers also sold prayer and news booklets to parishioners and listened to records in the church offices during Masses they did not attend. The small commission they earned on sales was added to the tips they got for running the priests' errands and was taken home to their mother. Father Leisen felt an obligation to help support his family from the time his father left, because he had tuberculosis, when he was in fourth grade.
Without a father around, the boys spent a lot of time with the priests of the parish, who treated them well, according to Leisen. His uncle was a Benedictan priest, as well.
Leisen had to convince his mother that he wanted to be a priest and was not pursuing it to emulate his brother or to please her. That was not the only stepping stone to be crossed, however, because the family did not have money to pay for the schooling.
Father Leisen told his mother that if he could not attend the minor seminary, which was a secondary school, that he would not go to school at all. A priest found some funding for him to attend the Crosier seminary in Onamia, Minn., so he worked to pay the rest of the $150 yearly cost while he was in school there for six years.
Trips home were only possible for Christmas, Easter, and summer breaks, and Richard and Leo worked as church janitors and as gardeners during the summer to earn money for the family. Father Leisen continued working as a janitor for St. Mary's until he was ordained. He saw a wage increase of 100 percent - from 50¢ to $1 - during the ten years he held the position. Tasks assigned to him while there - including climbing in the upper reaches of the cathedral to lower the chandeliers - would not have been approved by OSHA, he joked.
He was ordained 50 years ago, after graduating from the seminary at St. John's University, and then he worked as an assistant pastor for St. Joseph Parish in Pierz and his home parish, St. Mary's in St. Cloud.
Though he wanted to continue parish work, after seven years the bishop told him that there was "nothing more pastoral than the work of Catholic Charities," he remembered. He was assigned to attend Fordham University in New York City for a graduate degree in social work. While earning his master's degree there, he worked in Catholic Charities and at a hospital alcohol unit in New York City.
Leisen then returned to the St. Cloud diocese, which covers 16 area counties, and became director of its Catholic Charities program. He held that position from 1965 through 1987, and during his first years with the organization, he was also the priest in Luxemburg. In the 22 years he was director, Catholic Charities' budget grew from about $300,000 annually to over $6 million, as he began 40 new programs.
One of his projects was working with 55 sponsors to settle approximately 1,400 refugees in the area. It was difficult work that "took all the know-how and expertise I could muster," but it was joyful work, he explained. Misunderstandings, violence, and prejudices posed problems, but he was delighted at how the refugees adjusted and the welcome shown them by many in the area, said Leisen.
While director of Catholic Charities, Leisen also developed a Foster Grandparent program and helped open two foster group homes for the emotionally disturbed, three group homes for the mentally handicapped, and seven low-income housing developments. In 2002, he was the first recipient of the Father Richard J. Leisen Award, established by the St. Cloud Diocese's Catholic Charities in honor of his work.
During and after his time with Catholic Charities, Leisen was the local director of Catholic Relief Services, the international branch of Catholic Charities. The 34 years he spent doing so filled a longing to do missionary work that he had felt since he was a child, he said.
One of his most inspirational moments as a priest took place while he was directing Catholic Relief Services. While visiting with a man in India, Father Leisen found out what the man most appreciated about the organization's work in that country. It was not the obvious improvement in the physical quality of living, as Leisen expected, but was the sense of worth the man felt, which came from the respect he was shown.
The work of the church, and of his life, is this "conversion of hearts, minds, and souls," emphasized Leisen, "essentially personal dignity."
The importance of each person in a parish is recognized in a different way than when Leisen became a priest, he feels. One of the biggest changes he experienced during the past 50 years was the switch to laity involvement in the church - especially at Mass - after the Second Vatican Council. Worship services are now celebrated in English instead of Latin, and priests no longer turn their back to the parishioners while preparing the sacraments. These changes are appreciated by the priests as well as by the lay people, said Leisen, because there is now a "greater warmth and unity" in the services.
After his work as director of Catholic Charities, Leisen came to Paynesville, and he has been the priest at St. Louis Catholic Church for the past 19 years.
The "spirit of involvement" Leisen loved to see while providing social services was also important in Paynesville, he realized. A 16-classroom addition to the church was built during his first year here, and parishioners were very willing to help with all aspects of the project.
Another thing Leisen takes joy in is the willingness of St. Louis parishioners to commit to spending an hour weekly in adoration of the blessed sacrament. It is a highlight of his time in Paynesville and an encouragement to him, he said.
Father Leisen is further encouraged by the working relationships of area pastors through the ministerial association, which he calls a "blessing for all."
Looking to the future, Leisen said that his "greatest delight" would be to see a parishioner decide to study for the priesthood, but since he considers that "the Lord's doing," he will simply keep fulfilling his duties as a priest.
---
Contact the author at editor@paynesvillepress.com • Return to News Menu
Home | Marketplace | Community
---