Warmbold enjoyed working with students
This article submitted by Linda Stelling on 5/31/00.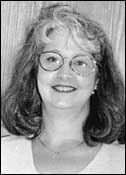 After working 14 years as a teacher's aide, Carol Warmbold has decided to retire and spend more time with her granddaughter.

"I enjoyed working with the special needs students. They have different challenges than the other students. I like to be helpful wherever there is a need," Warmbold said.

A homemaker, Warmbold started working as a management aide in the high school in 1986. She worked with special needs students who required additional help. She became pretty close with several of the students as she assisted them from ninth through 12th grade.

After spending nine years in the high school, she made the transition to the middle school as a teacher's aide. Warmbold's job was to monitor special education students in the study hall, help them with homework, and provide assistance when they had to take tests. For example, if a student had problems reading a test, Warmbold would read the test to them in a separate room.

According to Warmbold, she tries to boost the students confidence by giving them a pep talk during the school day.

Warmbold also monitors the students who have noon detention.

Warmbold starting thinking about retirement after her son-in-law's death. "A person can't take anything for granted. You don't know what tomorrow will bring," Warmbold added.

"I felt the need to be available to my family," she said. "I'm an only child and my parents can use the extra help."

Retirement will give Warmbold time to work in her two large gardens. She also does a lot of canning.

Her husband, Duane, will be retiring from his job next May. After that date, they plan on doing some traveling.

Warmbold said she looks forward to being a homemaker again, and to having a flexible schedule to help her parents, go shopping, or help at church when needed.
---