Local Lion receives international award
This article submitted by Michael Jacobson on 5/31/00.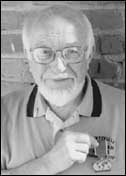 Dr. Ray Lindeman was among 11 Lions in Minnesota, Manitoba, and Ontario who were given the International President's Award recently.

The award was presented to him at the multiple district convention in St. Paul on May 12-13. The multiple district with Minnesota also includes Manitoba and northewestern Ontario. In all, 24,000 Lions are in the multiple district.

Lindeman said that Lions' awards are always a surprise. He was the 10th of the 11 recipients to receive the award at the banquet. He said we was ready to go to bed when he recognized the description as his. He knew no one else at the meeting was born and raised in Delmont, S.D., a small town south of Mitchell.

"It's always nice to be recognized," he said. After receiving this award, Lindeman said he really missed being able to share it with his late wife, Connie.

Lindeman has been a member of the Paynesville Lions Club for almost 50 years. During that time, he has maintained a perfect attendance record, which means he has made up any meeting he has missed.

Previously, Lindeman received the Melvin Jones Fellowship for his service to Lions. He has served in various offices at the local, district, and multiple district level, including a stint as the district governor.

He credits his work with the Lions' diabetes project for his recent award. Their project aims to find diabetics, educate patients and caregivers on treating diabetes, and find a cure for diabetes by supporting medical research.

Lindeman, who practiced medicine in Paynesville for almost 50 years, has been involved in the diabetes project for 15 years. He currently serves as the chair in the multiple district. The project has been featured twice in Lions International publications, and Lindeman and other project leaders will be attending the International Lions convention in Honolulu in June to present their work.

"There are 14 million diabetics out there, and seven million don't know they have it," said Lindeman. "Those are the ones we are trying to reach."

Lindeman suffers from Type II diabetes himself. He controls his disease through diet, medication, and exercise.

In addition to screenings, Lindeman helps with diabetes education. He feels his experience as a doctor and as a diabetic give him credibility in diabetes education.

He calls diabetes unique in that it's an incurable disease that can be controlled. People will live with it for the rest of their lives, but only spend a few moments with a professional health care provider. "It takes a lot to time to educate a diabetic," Lindeman explained. "The more you know the better you can take care of yourself."
---