Masons bestow highest award on 50-year member
This article submitted by Michael Jacobson on 5/31/00.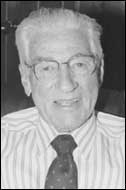 For his service to the Masons since 1947, Lloyd Peterson was given the Hiram Award for outstanding achievement at the recent banquet the the Paynesville Masonic Lodge. The award, which is given at the discretion of the master of the lodge, is the highest award from the local lodge. Peterson received his on Friday, May 12.

Reed Ringstad, the master of the Paynesville lodge, said Peterson deserved the award for his ethic and conduct and his service as a Mason. Ringstad said Peterson has been an active member of the community through work, church, and civic groups.

"He's just an outstanding person," Ringstad explained. "He's not afraid to speak of Masonry, and he's supportive of Masons all the time through actions and deeds."

Peterson became a Mason 53 years ago. In Paynesville, he has served in all the offices and twice as master of the lodge. He also is a member of the Knight's Templar and Royal Arch Masonry in St. Cloud and of the Zuhrah Temple Shrine in Minneapolis.

Peterson operated a number of turkey farms in the Paynesville area before retiring to Lake Koronis. He served for six years on the University of Minnesota's Board of Regents. He is also an active member of Paynesville Lutheran Church and the Koronis Lake Association.

Dale Bast, who passed away this winter, received the Hiram Award from the Paynesville lodge in 1997. At the banquet this year, his wife, Jeannette received a widow's pin.

Ringstad also recognized Doug Hendrickson with a merit award. Hendrickson, according to Ringstad, provides invaluable help to the lodge.
---