Staff learning to use state-of-the-art CT scanner
This article submitted by Michael Jacobson on 5/31/00.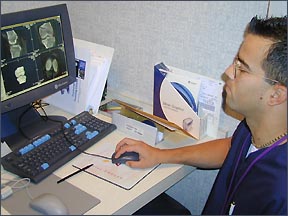 A new state-of-the-art CT Scanner is providing clearer images and more services at the Paynesville Area Health Care System. The high speed scanner has been up and running since May 8.

The radiology department has been doing routine procedures for three weeks, only with greater image quality. Already they've picked up things on scans from the new machine that would have gone undiscovered in the past.

The new scanner, which cost more than a $1 million, delivers more information and greater detail.

Harnessing that information has been the challenge for the radiology staff. All the information acquired by the CT scanner has to be organized. The radiology staff has been setting protocols on the computer system for scans of the various parts of the body: legs, torso, head, etc. Software representatives have been on site on several occasions to conduct training.

Two radiology staff members went to California for a week for training. Troy Mansell (pictured at right at the scanner's computer) and Laurie Meyer are helping to train the other staff members. Eventually, all eight members of the radiology staff will be able to operate the scanner.

Mansell is actually a new employee of PAHCS. He spent six years in St. Cloud specializing in CT scanning.

Similar scanners in the state are located at Abbott Northwestern Hospital in Minneapolis and the Mayo Clinic in Rochester. "This is as good (a scanner) as anything in the state," he said. "The technology is amazing. I couldn't resist the opportunity to be where the technology is."

The staff will continue to learn more advanced procedures. Dingmann said the staff is getting better and better at using the new technology.

For instance, a control group of volunteers have taken scans for cardiac scoring. Using patient risk factors and the scan to judge the build up of plaque in the coronary arteries, cardiac scoring can detect signs of heart disease.

The scan for cardiac scoring is similar to other procedures on the new machine. "From there, we have to learn to manipulate the data on our virtual imaging work station," said Mark Dingmann, head of the radiology department.

Another new procedure will be the virtual colonoscopy. Dingmann said a control group of 25 patients will need to take the scan as well as a regular colonoscopy to make sure the results correlate.

Once a correlation is reached, the virtual colonoscopy could be used as a screening procedure. Patients could take the scan, which is less intrusive, and avoid the colonoscopy if the scan was clear. To investigate any irregularity, a regular colonoscopy would still be necessary.
---