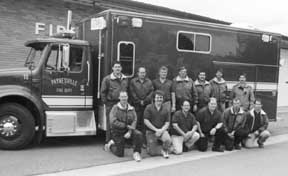 The early arrival of a new rescue vehicle was a pleasant surprise for the Paynesville Fire Department.

When the new rescue truck was ordered in November, the Paynesville Fire Department was told it would take a year and a half before it would be ready. Instead of 18 months, the truck arrived in less than six.

"The economy on truck sales fell, and people weren't buying trucks," said fire chief Jim Freilinger. "All of a sudden truck chassis' were available."

Some of the members of the fire department in front of the new truck are: (front) Ron Mergen, Mike Stern, Jim Freilinger, Dave Lange, Bob Liestman, Jack Winter; (back) Ken Reiman, Denny Nacey, Bob Wander, Roger Torborg, Mark Guenther, Kelly Mohr, and Jeff Ruprecht.

The much-needed vehicle goes on all department calls. The new truck is larger and can hold 13 fire fighters, in addition to the department's equipment for medical, fire, and accident calls. "We still have room to spare," Freilinger said.

The fire department had been using a 1978 Chevy van for a rescue vehicle, which could haul only one fire fighter legally.

The new vehicle has exterior compartments enabling the firemen to have more room to store equipment, making it easier and faster for the firemen to access it. The equipment is also secured, making it safer for the firemen riding in back.

The self-contained breathing apparatuses are also designed to be seat belts for the firemen riding in the vehicle. Besides added safety for the riders it enables them to be prepared for work upon arrival at the call site.

The new rig can serve as a command post in an emergency. It has an electrical generator, which is hooked directly to the engine. It can be activated with a flip of the switch. The generator will provide emergency lighting and electricity.

Directional lights are another feature on the new vehicle. The lights will help direct traffic at an accident scene or fire.

"We started planning the purchase of the new rig about five years ago," Freilinger said. The department wanted an equipment and personnel carrier. A committee looked at various styles and models, determining what was best for the department.

The new vehicle cost $137,000. "We couldn't have purchased the new vehicle without the help of the townships and city," Freilinger said.

The old vehicle was declared surplus property at Wednesday's city council meeting. It will be sold by closed bids in July.
---
Contact the author at paypress@lkdllink.net • Return to News Menu
Home | Marketplace | Community
---