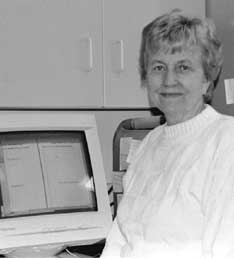 In her 30 years in the Paynesville school system, Agnes Fangmeier has seen individual special education reports go from three to 20 pages. Originally hired as a teaching assistant by the Paynesville Area School District 30 years ago, she ended up handling paperwork as the secretary for special education.

Her last day of work at the school is Friday, June 8. "I feel I'm leaving at a good time as the teachers are proficient at the computer. I'll be leaving the department in good hands," Fangmeier said.

After first being hired, Fangmeier worked with kindergarten through seventh grade students as a teacher's aide. After a few years, her job evolved into secretarial position, doing all the paper work for the Title I and special education programs as well as typing music programs and typing for the social worker and the school nurse.

She still does some things outside of special education, like organizing the achievement testing programs for the elementary and middle schools and serving as a substitute for the elementary secretary.

But more and more of her time is dedicated to special education. Every special needs student has an individual education plan. She has seen the reports grow in size over the year. She also compiles monthly reports, sets up special education staff meetings, and arranges meetings with parents.

The biggest change Fangmeier has seen in the department has been the use of the computer. "I find computer work interesting and challenging," she said. She also does some troubleshooting for the special education staff, helping them with problems. The computer has made her job easier, she said The special education staff is being required to do their own reports, reducing her work load.

One aspect of her job is that no two days are alike, she said. "Every day has been different because I work with so many different people," Fangmeier said. She works directly with the 19 members of the special education staff.

Fangmeier is thankful for the learning opportunities she has had on the job. She has learned how to use computers, learned about the education system (particularly the special education system, which is more complicated than a person realizes) and some medical terminology and types of therapy.

The funding for Fangmeier's position was cut to $2,500 for next year, which is what the federal government pays the school district, in the budget reductions this winter. Her full-time position will not be replaced, leaving more paperwork for the special education teachers.

Jane Hjelle, the special education department chair, said they are upset about losing her. "It is hard to think what next year will bring without her. She does so many things from taking meeting notes to setting up staffings," Hjelle said.

"Agnes knows the whole picture of the department, the scope goes far beyond what people realize," said Kathy Olmscheid, a special education teacher at the middle school. "Her retirement means a lot more work for all the teachers," she continued.

"We are truly going to miss her," Olmscheid added.

In her retirement, Fangmeier hopes to do some computer work from home, read some good books, listen to good music, and spend more time with her four children and eight grandchildren. Her husband, Harold, works at Cenex.

"I have been fortunate to work with some very good people," said Fangmeier.
---
Contact the author at paypress@lkdllink.net • Return to News Menu
Home | Marketplace | Community
---