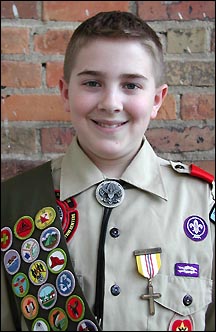 Troy Gerding doesn't believe in wasting time, at least when it comes to scouting. While others may procrastinate, he tackles the merit badges as soon as possible, which is why he will receive his Eagle Scout award next week, at the age of 15.

"They'd like to have you do it right away, so you can do other things," explained Gerding, a ninth grader at PAHS.

"I decided to do it early and get it out of the way," he added, "so I could do fun stuff."

His Court of Honor will be held on Sunday, June 2, at the Crow River Trail Park (at the north end of Burr Street) at 2 p.m. Attendees should bring their own lawn chairs.

Troy, the son of Dave and Cindy Gerding, joined the Cub Scouts in first grade and the Boy Scouts in fifth. He is the only member of the local Boy Scouts in his grade but has excelled because he likes it. "It's fun. I like camping and all that," he said. "I've made a lot of friends, both older and younger than me."

When he got into seventh grade, he decided not to waste any time and started on his Star Award. Then he became a Life Scout in eighth grade. He had to wait six months before starting on his Eagle Award, but has since earned the 21 merit badges and completed the Eagle project required to earn the award.

Troy said he decided to go for his Eagle Award in junior high, too. Since only four percent of scouts earn the top award, he figured he'd regret it later if he didn't get his Eagle Award.

Besides that, he said, "It'd be a big honor, and I'd like to do it."

Among the required merit badges he earned were: first aid, camping, personal fitness, citizenship, environmental science, and emergency preparedness. Optional badges included swimming, orienteering, wood carving, and fishing.

The last merit badge he completed was in communications, which he actually did put off for a time. Normally, Eagle Scouts use their experiences in tenth grade English to accomplish the merit badge, but Troy eventually decided he didn't want to wait.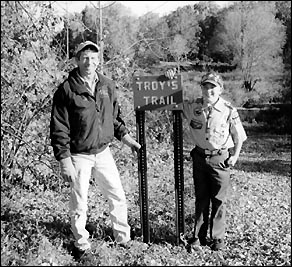 For his Eagle project, Troy coordinated the building of a new trail at the Crow River Nature Park. Troy's Trail, as it was named, goes west from the existing trails to the Highway 55 bridge.
Trail coordinator Tom Koshiol and Troy at the the trail Troy built for his Eagle award.
The idea to expand the trail came from Tom Koshiol, the founder of the Trail Guards, who have built the nature park and trails.
Troy had to coordinate the work. He received a $500 donation from the Lions Club for the expenses, including a new bench, but many items, including mulch from Jo Speldrich, were donated.
While the Trail Guards helped some, Troy enlisted his family and his fellow Boy Scouts to do most of the clearing of brush, leveling, and laying down mulch to make a trail. In all, it took 196 hours and 15 minutes of work to make the trail, meticulously recorded by Troy for his Eagle Scout presentation.
The idea for naming it after himself was not Troy's idea. "Tom wanted it to be called Troy's Trail because I made it," he explained.
"Maybe people would like to go see it and they could go down there and walk it after the ceremony," he added.
Troy completed his board of review for his Eagle Award in March and received official notification of his award in April.
He plans to continue in scouting until he is 18. Eagle Scouts can earn palms for getting more merit badges, and Troy, of course, wants to go to the top, the gold palms. "I'll try for the gold," he said. "See how many I can get."
Troy has attended summer scouting camp at Camp Cayuna in northern Minnesota every year. He also attended a National Jamboree in 2001. This summer, he will be going to a hiking camp in New Mexico with two dozen other scouts later in June.
At school, Troy plays in the band and competes in football and wrestling. He also likes to bike, camp, and to be active in the youth group at St. Louis Catholic Church.
---
Contact the author at paypress@lkdllink.net • Return to News Menu
Home | Marketplace | Community
---