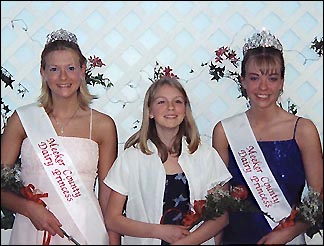 Carin and Mesa Frenchick were crowned as Meeker County Dairy Princesses in April, and their sister, Kaitlyn, was chosen as an ambassador.

The three girls are the daughters of George and Lynda Frenchick, who own a farm in Union Grove Township.

Carin, right, will be a dairy princesses for the third consecutive year. Mesa, left, will be a dairy princess for the first time. Kaitlyn, left, is an ambassador this year.

Carin and Mesa are two of the four princesses for Meeker County. Their job as dairy princesses is to promote the dairy industry, through visits to schools (such as one to Paynesville Area Elementary School on Tuesday, May 28), parades (including the Town and Country Days parade in Paynesville), and handing out ribbons and making milk shakes at the Meeker County Fair in August.

As dairy princesses, they will focus their message on young kids, mothers, and the elderly.

Promoting the dairy industry, and agriculture in general, is more important these days, they agree, as the community has fewer and fewer farmers. "Seventy percent of kids in school used to come from a farm," said Mesa, who will graduate from PAHS in June. "Now it's lucky if it's 20 percent."

To be a dairy princess, girls (ages 18 to 24) must either live or work on a working farm. The Frenchick family milks 25 registered jersey cows and keeps around 50 on their farm.

Carin earned the only scholarship awarded to dairy princesses this year, as well as a trip to Alabama in November to visit a sister city of Litchfield. So Mesa will be going to Hartford, Ala., to meet the Peanut Queen and talk about the differences in dairy and peanut farming.

Carin, a junior at Iowa State University, is a dairy princess for the third straight year. She is doing it again "because I enjoy meeting new people and going to fairs and helping kids understand the importance of milk in their diet," she said.

A 2000 graduate of PAHS, she is studying dairy science/pre-veterinary and hopes to attend veterinary school either at ISU or the University of Minnesota. Once there, she plans to specialize in dairy cattle.

Mesa is in her first year as a dairy princess, finally being old enough to be eligible. She plans to attend Ridgewater College in Willmar next year and study cosmetology originally. But then she plans to transfer to a school that has equine management, as she is a dairy princess who actually loves Arabian horses more than cows.

Mesa attended a regional competition for the Princess Kay of the Milky Way title with 80 other county dairy princesses, but she did not advance to the final 12 in the state.

Kaitlyn, a sixth grader, is eligible to be an ambassador (with similar duties to a dairy princess) until she is 18 years old, when she could try to be a dairy princess like her sisters.
---
Contact the author at paypress@lkdllink.net • Return to News Menu
Home | Marketplace | Community
---