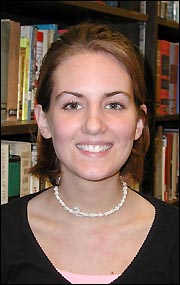 Junior Hannah Felling has been selected to take part in the Youth Advisory Council for the Minnesota Department of Children, Family, and Learning during her senior year at Paynesville Area High School.

The 15-member Youth Advisory Council meets monthly and advises Commissioner Christine Jax and CFL personnel about student perspective to education issues. The council has 14 new members this year and one carryover.

Felling, the daughter of Richard and Brigid Felling, applied for the Youth Advisory Council in March, was selected into the top 20 applicants, and then had a personal interview in April. Student members are chosen for their leadership, character, participation in school activities, and experience with education and working with youth, according to the CFL.

This will be the third year for the council, and Felling is the first PAHS student to take part. Next year's council has seven outstate members and eight from the metro.

They will meet monthly: one month at CFL headquarters in Roseville and the next by satellite.

The council will not only provide feedback to the CFL about state education policies, but it could lobby the Legislature for law changes at next year's legislative session.

This aspect especially attracted Felling's attention, who has an interest in politics and getting things done. "I didn't really want to be part of it if we weren't going to accomplish anything," she said.

Felling saw applications to the council posted in Jeff Youngs' classroom and decided to apply because she is interested in law and politics. Originally, she was told she hadn't been selected into the top 20, so she was pleasantly surprised when she was informed that the original notice was in error.

She learned two weeks ago that she had been selected for the council and already has attended her first meeting with the group.

"I didn't think the interview went so hot, so when I found out about it I was excited," she said. "I think I was even more excited after the first meeting because I met the people and have a better idea of what we're going to be doing."

"We're like the youth voice," added Felling, who also recently placed at the state speech meet.

Felling's selection didn't really surprise Youngs. Felling, he noted, once turned down extra credit points she had earned from him for an out-of-class project because she wanted to do it anyway. "She's the kind of kid who's self-driven and motivated by the rewards," he explained. "She'll do things for the sheer value."

Felling, he said, will get a chance to see, and participate, in government in action, which should prove beneficial as she will be taking government class from Youngs next year as well.

Felling Ð who is interested in law and politics and who wants to be a judge one day Ð will meet with the Youth Advisory Council again in August.

Until then, they will all be brainstorming for topics to address. Felling already has one: the Profile of Learning and the graduation standards. She thinks some testing needs to be done, but calls the current system a waste of people's time and efforts.
---
Contact the author at paypress@lkdllink.net • Return to News Menu
Home | Marketplace | Community
---