The wayside rest on Highway 55 east of Paynesville will remain open for another season, but its future is uncertain.

Earlier this spring, MnDOT planned to close up to 45 rest areas in the state, including the local wayside rest. Because it is a seasonal wayside rest Ð open from May through September Ð it was not reopened in early May for the summer season and was slated to remain closed.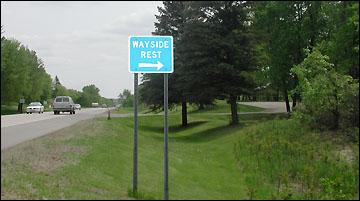 In mid-May, however, Lt. Governor Carol Molanau, who is also the state's transportation commissioner, proposed a new plan that would keep the rest areas open for another year, using $2 million in unspent transportation money. The proposal was accepted by legislators, allowing MnDOT to open all of Minnesota's 77 rest areas.
The local wayside rest was reopened just in time for Memorial Day. For at least another year, the site will provide a place for travelers to picnic under a shelter, to take a walk with a lake view, or to use a restroom.
The wayside rest on Highway 55, east of Paynesville, has been serving travelers since 1956 when the Lions Club developed the site as a park
Throughout the coming year, MnDOT will look for ways to save money on rest areas, including privatization, forming partnerships with local communities to keep rest areas open, shortening the hours of some rest areas, and closing those with little traffic.
MnDOT doesn't know how many people use the local wayside rest because a survey has never been done at that site. MnDOT estimates up to 15,000 people may visit the site annually based on traffic at other sites, but at least one MnDOT official doubts that the local site attracts that much traffic.
According to MnDOT, maintaining the site costs less than $4,700 each year for property maintenance, cleaning and maintaining the restrooms, and mowing the grass. This year, MnDOT installed portable toilets to reduce the cost of maintaining "vault" toilets, which were being vandalized.
The 2.5-acre site, originally owned by local businessman Earle LeMasurier, was sold to the Paynesville Lions Club to develop as a park in 1956. Once the park was built, the Lions turned it over to the state which later developed it as a wayside rest.
The fate of the local wayside rest, as well as other rest areas in the state, will be determined by June 2004 when the current funding runs out.
---
Contact the author at editor@paynesvillepress.com • Return to News Menu
Home | Marketplace | Community
---