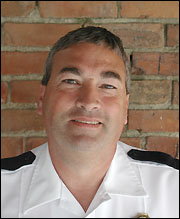 After nearly three decades of serving the Paynesville community as a police officer, Paynesville Police Chief Tony Schmitt is retiring at the end of this week.

On Friday, May 30, Schmitt's last working day, the city will hold an open house for him at city hall from 1:30 to 3 p.m. His last official day on the job is Saturday, May 31.

After graduating from Paynesville High School in 1969 and earning a biology degree at St. Cloud State University, Schmitt became a police officer in Paynesville Township on what he thought was a temporary basis in 1975. "I certainly didn't plan on being in law enforcement for 28 years," said Schmitt.

Police chief Tony Schmitt is retiring at the end of May after serving the Paynesville community for 28 years, including six years as chief.

He worked as a one-man police force in the township for 17 years, until 1992, when the township started contracting for police protection from the city, and Schmitt went to work for the city department. For the past six years, Schmitt has served as the police chief.

Being chief meant added demands for reporting and supervision, but with the benefit of better hours, working weekday shifts instead of nights and weekends.

"It's definitely interesting work," said Schmitt of his career in law enforcement. "Interesting, challenging, everchanging work. And sometimes even rewarding."

The biggest change in police work that Schmitt has seen in his three decades on the job is in technology, most notably computers within the past decade. When Schmitt started, all reports were hand-written, but now they use computers for everything, and they have up-to-date statewide records available via a computer in the patrol car.

Other changes have made the job more challenging. Schmitt, whose family has lived in Paynesville for three generations, thinks that people in general are less respectful of each other than they used to be.

When he started in Paynesville Township, he knew 90 percent of the people, he estimated, and most people lived in two-parent homes with long-time neighbors living next door, he said.

"Police work is a lot of common sense, and treating people the way you would like to be treated," said Schmitt.

While still not having many violent crimes, Paynesville has all the other problems of the big city, including drugs, just on a smaller scale, said Schmitt. When he started, seeing marijuana was a big deal, and now police see it almost on a weekly basis.

Schmitt said he has no immediate plans for his retirement. He will take some time off but does expect to stay busy, possibly doing more accounting or farming, which he has done on the side for years. He also likes to hunt and fish and spend time with his wife, Jan, and two grown children.

One thing will happen for sure in his retirement. He will "worry about his own problems instead of solving everyone elses," he said.

The city has promoted Kent Kortlever to police chief and hired Chuck Buggs as a new officer.
---
Contact the author at editor@paynesvillepress.com • Return to News Menu
Home | Marketplace | Community
---