In the next few weeks, the Press will feature a half dozen staff members at the Paynesville Area Schools who are retiring this spring. We start this week with elementary teachers Diane Nelson (35 years) and Berniece Voss (34 years).

Diane Nelson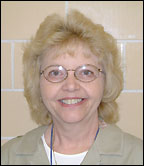 Diane Nelson knew she wanted to be a teacher from the age of six. When her grandparents moved into an old school house, they put the desks in the basement of her home, where she would teach neighborhood children.
"I would rope anybody I could into being a student," she recalled. "I've always loved learning, and I guess I just wanted to get others as interested in it as I was."
Even after 35 years, Nelson says that teaching has never felt like a job to her. She's always looked forward to coming into work.
Diane Nelson is retiring this year after 35 years at Paynesville Area Elementary School, where she has taught third graders since 1968.
"I'm retiring with mixed emotions. I'm really going to miss the students and faculty. They've been like a family to me in the 35 years I've spent here."
Nelson grew up in Elbow Lake, Minnesota, and attended college at the University of Minnesota-Morris. She majored in Spanish and elementary education.
Nelson accepted her job as a third grade teacher in the fall of 1968. With the exception of her first year, she has taught in the same classroom every year of her career.
She met her husband, John Nelson, in 1970 and says she stayed in Paynesville because it's quiet, pretty, and by a lake.
Nelson believes it is important for a teacher to be a resource to students. "I teach students, but I also direct them to places where they can learn," she said.
She says students can make the most of their experience by being an active listener and having a positive attitude. In her opinion the most important classroom values are mutual respect, caring, and a desire to learn.
One thing that makes her happy is to see young, enthusiastic teachers. Her advice to people interested in going into teaching is: "Make sure you have patience, enjoy children, and be ready to accept a lot of different personalities. And always look for something special in each child."
She thinks that patience is the most important quality for a teacher to have.
Some teaching days are difficult, because more time may be spent managing behavior than teaching. She speculates that this may be due to an increase of kids who come home to worn-out parents who both have jobs, which means they need more attention in school. She suggests spending less time with television and video games and more time outdoors. "Get outside and play" is her advice to families.
In her retirement, Nelson plans to visit her children and travel with her sisters on an annual winter trip. She also plans to continue working as a volunteer or substitute teacher. "I'm not going to stop learning when I stop teaching," said Nelson.
Berniece Voss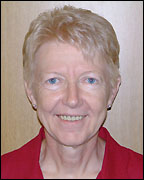 Berniece Voss enjoys how her students can always put her in a good mood. "Kids just make your day," she said. "Some days you come into school a little depressed, but before long you just forget it all."
As an only child, Voss admits that she is surprised that she gets along with children so well.
"No matter how ornery some kids can be, there is always something good about them," she said. "You don't even have to look for it; it's just there."
After 38 years in the classroom, including 34 years at PAES, Berniece Voss still believes a positive attitude is one of the most important attributes of a successful teacher.
Voss was encouraged to become a teacher by her uncle, who was a custodian, and by her eighth grade teacher, who was a role model to her. Even so, when she went to college at Valley City State she took a business minor just in case she didn't like teaching. After two years of school, she student taught, and it was then that she knew for sure she wanted to become a teacher.
Before winding up in Paynesville, she went on to teach at two schools in North Dakota and one in Winnebago, Minn. When she got to Paynesville, she found the school was more progressive in their educational thinking, and she felt it was the best school she had ever been in.
"I still think that," said Voss. "And I hope we can keep it that way, but it's hard with all the (budget) cuts."
Voss says another attraction to Paynesville was the friendly people who make up the community.
"We're living in a community where respect is still being taught," said Voss. "We have it good in a small town."
One of the most challenging aspects of her job is to be firm when students require discipline. "Students have to want to learn, and that's kind of hard sometimes when they don't see the importance," said Voss.
Voss says an even bigger challenge is the added stress of complying with graduation and test standards. "My biggest fear is that we're going to start teaching to the test, and then all flexibility is gone," she said. She thinks standards take away from each teacher's unique style of teaching and connecting with students, and teachers already have enough to worry about without rigid standards.
One of the biggest changes Voss has seen in her 38 years of teaching, including 34 years in Paynesville, is the increasingly busy schedules of students. "Kids are into so many things these days. And for some families, sports come first," she noted.
But for all the changes she has seen in school curriculum and student lifestyles, she believes that kids are still kids. "Even though times have changed so much, the basic child has not," said Voss.
Her advice for new teachers is: "Teaching is what you make it. If you walk into the classroom with negative thoughts, it's not going to go well. But with positive thought you find out how much you're capable of, and life becomes much fuller."
In her retirement, Voss hopes to do some traveling by motorcycle with her husband, Art. She also plans to find more time to read books and to tend her garden.
---
Contact the author at editor@paynesvillepress.com • Return to News Menu
Home | Marketplace | Community
---