Birch Beach Store sold back to Haagenson family
This article submitted by Linda Stelling on 5/26/98.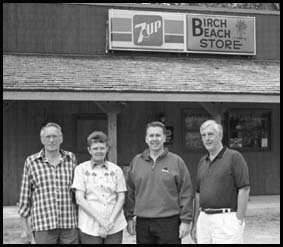 The Birch Beach Store on the south shore of Lake Koronis dates back to 1957.

The store was built by Oluf Haagenson in 1957 but in recent years has been run by nonfamily members. Bud and Leola Wendroth, Paynesville, recently sold the store to Jerry and Dean Haagenson, descendents of the store‰s founder.

"At one time the store belonged to three different uncles," Jerry Haagenson said. "I'm excited to get the store back into the family."

"As a youngster, I spent quite a bit of time at Lake Koronis. I have a lot of fond memories of the area," Jerry added. His parents, Melvin and Nellie, farmed five miles from the store. He often headed to the store to buy pop or to visit with his uncle. His grandparents, Adrian and Dora Haagensen, built the house and lived next door to the store.

Haagenson said the store got its name because at one time, Birch trees were found in front and behind the store. "I hope to plant some more near the store," he added.

Wendroths purchased the store from Alan Hubred 13 years ago. They remodeled the store and added a new front a few years ago. It has been 18 years since the store belonged to the Haagenson family.

When Manther Haagenson owned the store, he enlarged the merchandise area and had a barbershop there for a short time.

"I'm going to miss the lake people and the kids who came to the store for candy," Leola said. Leola said she likes to paint and will spend some of her free time painting. In addition, she also plans on finishing some remodeling around the house and do some yard work. Later this year, she plans on doing some traveling.

Now that Bud is retired from Oak Grove Dairy and the store, he said he plans on helping the kids whenever needed.

In June the old gas pumps installed by Oluf Haagenson will be removed and new pumps and tanks will be installed.

Jerry and Dean Haagenson both sell real estate for ReMax in Minneapolis. Jerry worked 36 years as a electrician. After his retirement, he became an associate with his son, Dean, in the real estate business. They have a summer home on Lake Koronis across the highway from the store.
---