Daughter pays tribute to Adolph Olson
This article submitted by By LuAnn Yattaw on 5/26/99.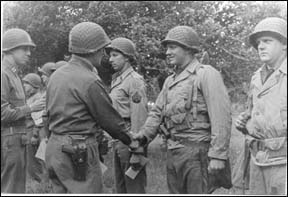 This will be the first Memorial Day without my dad, Adolph Olson. This is especially important to my family because my dad truly depicted the meaning of Memorial Day for our country.

I remember, as an early-rising dairy farmer, my dad would raise the American flag in our front yard. It was an important day to him to remember the family members that were no longer with us, and to honor the fallen American service persons, the men and women who died to insure that we would have the freedom that, sadly, my generation and other generations take for granted.

Adolph Olson was inducted into the armed forces on Oct. 16, 1942, and served 11 months on the front lines for our country. He defied the odds when he survived the landing on Omaha Beach during the allied invasion in World War II. His job was to set up radio communications for the 56th Signal Battalion attached to the First Army. The beach that he was assigned was referred to as "Easy Red." He got to Omaha Beach at about 7:50 a.m. on June 6. He and his four men were to set up early communications for his company; however, all of their equipment was lost in the water.

After being pinned down on the beach, they fought along with the rangers on the eastern edge of Omaha Beach. They were into the bluffs by dark and then had to destroy a German pillbox with hand to hand fighting. They also threw lavender smoke grenades to mark the target for the Navy guns.

My dad was one of few who made it off of "Easy Red" alive that day and one of the few who even made it to the beach. He continued to fight on the front lines, advancing toward Germany across France and Belgium.

For those who still find it difficult to believe there was a Holocaust, my dad witnessed it firsthand with his involvement in the liberation of one of the Jewish camps. The horror that he saw during those months stayed with him for his lifetime.

Dad participated in six major battles and many campaigns. He received the Bronze Service Arrowhead medal for battle on Omaha Beach. He also received the Bronze Star, the Good Conduct Medal, and the European African Middle Eastern Theater Service Medal.

When Adolph Olson was discharged on Nov. 19, 1945, he had advanced to the position of master sergeant, the highest noncommissioned officer of the U.S. Army.

My dad was not an emotional man. He did not cry easily or fear much. In 1992, my husband and I were lucky enough to accompany my mom and dad to Normandy to visit the American Cemetery and the remains of the pillboxes on the beaches of Normandy. This was a very emotional experience for my dad. He pointed out the names of men from his unit on a memorial erected at a site on the beach, remembering the nickname or some unusual fact about his fallen buddy. As he stood among the thousands of crosses in the American Cemetery, he quietly wept. I understood then what that war had been and what it had done to him. I am so happy that he was able to make that trip before his health failed him. He was so proud of his country and what part he played in its preservation.

After my father's death on Oct. 1, 1998, I spent several hours looking through his service "suitcase." As well as finding many of his medals and letters from home, I also discovered the historic letter from General Eisenhower, which begins: "You are about to embark on the Great Crusade..." Even as the great general was writing this, he was aware of what he was asking these many troops to do for their country.

My dad's copy of this letter is very tattered and worn. It looks like paper looks after being open and folded many, many times. I know that this letter was kept in his pocket for those many months. The list of command post locations showed me he had traveled at least 1,305 miles from June 6, 1944, to May of 1945.

I also learned that his unit, the 56th, had received the Meritorious Service Unit Plaque. He kept some pictures in this "suitcase," pictures that we hope to turn over to the Holocaust Museum in Washington, D.C., pictures of death and destruction.

I hope that we all will remember our veterans this Memorial Day and give thanks for everything that we have, due to the sacrifices that they made for us and our future generations. I miss my dad greatly, but I know that the values of pride and dedication to family, friends, and country live on in his family and everyone who knew him.
---