Elementary school loses its 'pal--principal Gary Heineman
This article submitted by Michael Jacobson on 5/26/99.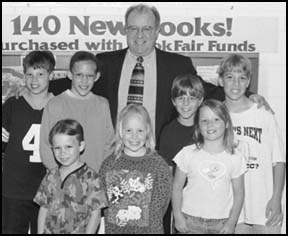 After more than a quarter century as the elementary principal, Gary Heineman will be retiring this spring, sort of. He will be leaving the Paynesville Area Elementary School but will not be lounging around the house for long.

He calls it re-engaging. Starting on July 1, he will become the principal at Saints Peter, Paul, and Michael Middle School in St. Cloud.

Heineman grew up in Alexandria, South Dakota, about 50 miles west of Sioux Falls. He earned his bachelor of science in elementary education from the University of South Dakota and started teaching sixth grade in 1962 at Woodbury Elementary School.

Through summer school, he did graduate work at Northern State College and at Mankato State University, eventually earning his master of science in elementary school administration from Northern State in 1966.

His first principalship was for the Todd County Schools on the Rosebud Reservation in South Dakota. He was the principal at an elementary school there for three years and the director of a federal program for two.

Wanting to move back to Minnesota, he replaced the retiring Agnes Dreis as the principal at the elementary school here in 1972.

"I enjoy being around kids," Gary said of his job. "I've always found that the learning process with elementary kids is exciting. The kids are interested and willing to learn."

"Generally speaking, I think our boys and girls are ready to learn, anxious to please, ...and very compliant," he added. In addition to good students, the conditions for a good learning environment, according to Heineman, include good teachers; good support for the teaching staff; and interested, enthusiastic parents.

"It's a great place. I've always loved my job," Gary said. "In my opinion it's the best school in the state."

His day-to-day activities are very flexible. "Everyday is different," he said. "It depends on what unfolds." Some days someone can walk into the office in the morning with a problem that consumes the rest of Gary's day.

"I try to spend time being visible and trying to find out what people have for needs," he said. "I see my job as a facilitator for parents, students, and staff."

Heineman's philosophy is that discipline is handled most effectively in the classroom. He is supportive and ready to intervene, but the first line of defense is classroom teachers.

He talks with kids about discipline problems and also visits with their parents. "If we're having trouble here," he said, "99 percent of the time they're experiencing something irregular at home."

The expansion of electronic resources in the school is by far the biggest change in Heineman's tenure. In the building, they now have e-mail for all teachers, phones in every room, and computers in the media center. "We can communicate with the snap of a finger," he said.

Teaching resources now include far more than textbooks. In the past, Heineman said, students "were confined to know, learn, and understand via a textbook."

"Now there are many other resources available to use as teaching tools," he said, both things in the community and in the school.

The use of computers is a powerful tool for students. "The world can unfold in front of them," said Heineman. "The expanse of their knowledge has just mushroomed."

Heineman has been planning his retirement since the start of this school year. As he thought about what he would do next year, the opportunity with Saint Peter, Paul, and Michael Middle School presented itself. "As I looked through it, I got more and more excited about it," he said.

The Catholic parochial school will be a new setting and will offer some new challenges. In grades five through eight, the Catholic school has about 300 students.

Heineman plans to relax and enjoy himself in the month of June before starting his new duties in July. He and his wife, Jeanne, plan to keep living in Paynesville.

"We have nice families here," Gary said. "I've enjoyed my job here. I will miss it."

An open house honoring Heineman will be held on Friday, May 28, from 3 to 4 p.m. in the elementary school cafeteria.
---