Adams is new transit bus driver
This article submitted by Linda Stelling on 5/26/99.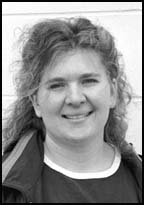 Paynesville Area Transit has a new driver and new summer rates for its bus service in Paynesville. Since May 1, Rhonda Adams has been driving the bus. She is a Paynesville resident who also drives school bus and works at the school.

For June, July, and August, the transit bus will be offering Summer Fun Fares. Each one-way trip will cost just 50 cents. Rides are available to people of all ages.

The boundaries for rides extend just beyond the city limits. On Highway 23, the range is to the golf course to the southwest and to Torborg Equipment to the northeast. On Highways 55 and 4, the limit is the businesses around Fleet Supply to the northwest and to the Hilltop area to the southeast. In an exception, the bus will also make trips to the VeteranŐs Memorial Park on Lake Koronis.

The bus runs on Tuesdays and Thursdays from 9 a.m. to 3 p.m. Reservations should be made for rides by calling 1-800-600-7498 extension two. Reservations can be made on weekdays from 7 a.m. to 4:30 p.m. They can be made up to two weeks in advance and it is best to give at least 24 hours notice.

The transit system is expected to get a new bus later this summer.
---