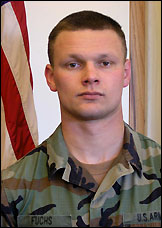 Specialist Jeremy Fuchs
While most people will celebrate the unofficial start of summer on Memorial Day, Lona Kissinger's celebration will be a bit more somber than usual. Instead of going to a parade or a picnic, she will stay home this year and her thoughts will undoubtedly turn to her daughter, Crystal Ring, who was recently deployed to Afghanistan.
Crystal was one of four PAHS graduates who boarded a plane last week for a four-day trip to Afghanistan. They are the largest group of local soldiers deployed together since hostilities in the Middle East began.
Jeremy Fuchs, Leon Fuchs, Jon Kulzer, and Crystal - all Army reservists serving with the 367th Engineering Battalion based in St. Cloud - will spend the next year or more disarming land mines and helping the people of Afghanistan rebuild their country.
The 367th Engineering Battalion is currently operating from a base near Kabul. The troops live in relative luxury with good food, showers (though limited), air-conditioned tents, and access to computers and telephones, according to Jon Kulzer's mother Judy Kulzer. So far, the biggest complaint from the soldiers, all of whom have called home in the past week, has been about the heat and the dust storms.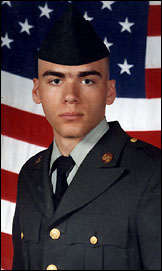 Specialist Leon Fuchs
All of the soldiers are proud to serve their country in the Middle East, according to their mothers, though all of them have admitted some apprehension about the situation, which is a good thing according to Leon Fuch's mother, Marilyn Fuchs. "It would be foolish not to be scared," she said.
While media attention has been focused on the war in Iraq lately, Afghanistan is still dangerous, according to Fuchs. Besides facing the danger of uprisings in Afghanistan, the soldiers' mission of disarming land mines can also be very dangerous, she said.
Exactly how much danger the soldiers face is unclear. "These men are trained to tell their moms and spouses only what they can handle. You'll drive yourself crazy worrying if you know all the details," said Fuchs.
Leon, who graduated in 2000, has been in the Army Reserves as a welder and a machinist for almost six years, and he's still happy with his decision to join, according to his mother. His father Cletus Fuchs, who served in the military during the Vietnam era, fears most that his son will volunteer for something dangerous.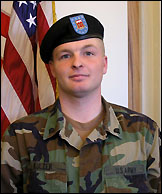 Sergeant Jon Kulzer
Kathy Blomker, Jeremy's mother, is relieved that her son didn't have to go to Iraq and she's grateful that he is at a secure base in a relatively safe part of Afghanistan. "What scares me the most is what he may see over there," said Blomker, noting that the emotional horrors of war often linger long after physical scars are healed.
Jeremy, a 2002 graduate, joined the reserves to help pay for college, according to Kathy. He joined while he was still in high school and returned from boot camp just after 9/11. Knowing what he knows now, though, Kathy is sure that Jeremy, an Army carpenter, would make the same decisions. He has even talked recently about possibly making a career in the military.
Crystal, who is also a carpenter, didn't have time to think about much besides the military after she graduated from PAHS in 2003. She went straight from high school to boot camp and training, receiving her orders for deployment just weeks after returning to Roscoe.
"I told her to not even look for a job," said Kissinger. Kissinger thought job hunting would be pointless because the unit had to report to Ft. McCoy in February for pre-deployment training.
After reporting to Ft. McCoy, in Wisconsin, Crystal didn't express any regrets. In fact, when Kissinger saw her daughter at Easter, Crystal was talking about becoming a full-time soldier. Whether she has changed her mind now that she's in the Middle East, Lona doesn't know. Jon, a 2000 graduate, left his civilian job as a carpenter to go to Afghanistan, even though he didn't have to. Because he had recently transferred from another unit, Jon's training wasn't complete and he needed a wavier before being allowed to deploy with the unit as a carpenter.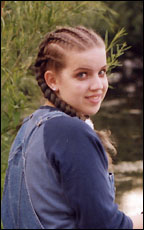 Specialist Crystal Ring
According Kulzer, her son's attitude is, "Don't send me home before it's over."
While Kulzer and Jon's father are dealing well with their son's deployment, Jon's siblings - especially his younger sister Kim, 14 - are having a harder time with it.
According to Kulzer, area residents have been a great source of comfort to her family. She was especially pleased that nurses from the Paynesville Area Health Care System have adopted the unit and plan to send care packages to the soldiers for the duration of their deployment.
Knowing that the community will be thinking of her son and the other soldiers - on Memorial Day and long after - will make the deployment more bearable for Kulzer.
---
Contact the author at editor@paynesvillepress.com • Return to News Menu
Home | Marketplace | Community
---