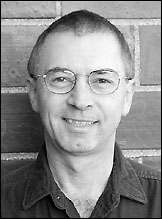 Mayor Jeff Thompson of Paynes-ville announced today that he intends to seek the Republican endorsement for the Minnesota House of Representatives seat being vacated by Doug Stang.

Thompson, 51, grew up on a farm in rural Paynesville and graduated from Paynesville High School in 1970. He has been an active community leader and political activist since his late teens.

Mayor Jeff Thompson of Paynesville has announced his candidacy for the Minnesota House of Representatives seat in District 14B, currently represented by Rep. Doug Stang (R-Cold Spring), who has announced that he will not seek another term.

Thompson has served on the Paynesville City Council since 1989. He was elected mayor in 1996. In 2003 he was elected president of the Minnesota Mayors Association.

Thompson previously ran for the Minnesota Senate in District 14 in 1996, against Stang and current Sen. Michelle Fischbach (R-Paynesville), who won the Republican endorsement and won the seat in a special election. Stang was elected to the Minnesota House later in 1996.

Thompson has been active in the Republican Party for years, including serving as the party co-chair in District 14, which includes most of eastern Stearns County.

District 14B includes the cities of Cold Spring, Paynesville, Richmond, Roscoe, and St. Martin and the townships of Munson, Paynesville, St. Martin, and Zion.

Listening, visioning, and acting have been the keys to his success in local government, said Thompson, who has lobbied for local interests at the county level, in St. Paul, and in Washington, D.C.

Thompson said he will bring several years of real-life experience and proven leadership to the table respresenting the residents of District 14B in St. Paul.

Thompson also is a member of the Stearns County Feedlot Review Committee and is treasurer of the Stearns County Municipal League.

Thompson is the office manager for Valley Industries in Paynesville. He and his wife Becky have two grown children.
---
Contact the author at editor@paynesvillepress.com • Return to News Menu
Home | Marketplace | Community
---