If Alf Everson could live another 20 years, he would learn how to use a computer. However, that seems unlikely since he just turned 100 on Tuesday, May 25.

When asked how he has lived this long, Alf said he wasnŐt sure. He said he drinks coffee every day and always eats cereal for breakfast. Two of his favorite foods are fried chicken and beef commercials.

Alf lived through World War I, World War II, and the Korean War. And he has lived through a lot of changes in the world, including the arrival of computers, airplanes, cars, tractors, and electricity.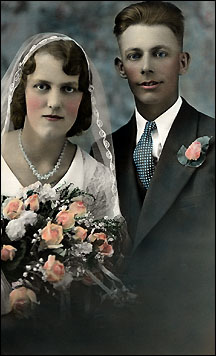 But the change that astounds him most is the increase in the price of food and land. He remembers when a cup of coffee at a restaurant cost just five cents, and he could buy two dinners for one dollar. His daughter RoseAnn Herzberg laughed when she said he is almost getting used to seeing the higher prices in menus. He also bought his farm for just $25 an acre in 1928.
Alf and Naomi Everson on their wedding day in 1932. They were married 68 years until Naomi died four years ago. Alf turned 100 years old on Tuesday, May 25.
Alf was born in 1904 on a farm in Irving township. He had a large family with seven brothers and six sisters.
Alf used to walk to school at District 24 in Irving Township two miles from their home. There he studied arithmetic, reading, spelling, and geography, until eighth grade. After that he farmed with his dad until 1928 when he bought his own farm.
Alf belonged to Nordland Lutheran Church when he was growing up but switched to East Irving Mission Church when he met his future wife Naomi. Later, East Irving Mission Church changed its name and location and is now Paynesville Evangelical Free Church.
Living on a farm his whole life, Alf remembers when there were no tractors and instead they had to use walking plows and horses to plant their crops. He also remembers how he broke his arm cranking his first car to get it started when he was 24 years old.
Alf and Naomi had three sons and one daughter. However they really enjoyed having kids around the house so after their children had all graduated from high school they took in nine foster children throughout the years and adopted one girl, Anita.
Now Alf has 16 grandchildren and 32 great grandchildren.
Five years ago RoseAnn and her husband Ken Herzberg moved in with Alf and Naomi, so RoseAnn could stay home and take care of them.
Alf has outlived many friends and family, including his wife Naomi, who died four years ago. Something that Alf really misses is hearing his wife play piano every day. His son Gordon also died five months ago from cancer, and Anita died nine years ago.
Farming, fishing, rollerskating, dancing, and camping used to take up a lot of AlfŐs time. He doesnŐt do all of those things anymore, but he does like to read newspapers, watch birds, watch the garden grow, visit friends, and sit in the sun.
Alf also used to travel. He has traveled to many places around the U.S. including California, Colorado, North Dakota, South Dakota, Iowa, and Michigan.
On Monday, May 31, an open house will be held for Alf at the Paynesville Evangelical Free Church from 2 to 5 p.m. to celebrate his birthday.
---
Contact the author at editor@paynesvillepress.com • Return to News Menu
Home | Marketplace | Community
---