The James Street Coffee Company has opened in downtown Paynesville.

The city's newest eatery is owned by two Paynesville couples - Tory and Kim Tish and Dan and Michelle Johnson. It opened its doors earlier this month.

Offerings include: fresh roasted coffees, including lattes, cappuccino, and iced coffee drinks; teas; fresh-fruit smoothies; soups; sandwiches; sweet treats, including scones, cookies, and muffins, which are all baked on site; and coffee-related gifts, including coffee mugs and grinders. Soon, they hope to add salads to the menu.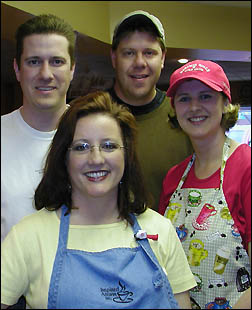 The coffee shop is open daily from 6:30 a.m. to 2 p.m. until early June. On Monday, June 7, summer hours begin, and the shop will stay open until 9 p.m.
Clockwise from the bottom, Kim and Tory Tish and Dan and Michelle Johnson are the owners of the James Street Coffee Company in Paynesville.
Owning a coffee shop was a long-time dream for Tory (who also owns Midnight Roastery, a wholesale coffee bean roastery that sells coffee to coffee shops) and Kim. The two couples proposed a partnership nearly a year ago, and it has taken a year of hard work to bring their dreams to reality.
The coffee shop has a stocked bookshelf to encourage customers to linger over a book or a game while having a cup of coffee. A dice cup on the counter allows customers to "shake for coffee." And there's even a window where customers can watch Tory roast the fresh coffee beans.
Eventually, the partners would like to add couches and an outdoor seating area, decorated like an Italian bistro, complete with a mural.
Dan, a real estate appraiser, and Michelle, a former flight attendant from Bloomington, live in Paynesville with their infant son, Alexander. Tory, a Paynesville native, and Kim, from Jackson, have two children, Alyssa and Jesse, who helped their parents get the James Street Coffee Company up and running.
---
Contact the author at editor@paynesvillepress.com • Return to News Menu
Home | Marketplace | Community
---