Sixty years ago, America was celebrating the surrender of Nazi Germany and victory in Europe after three and half years of fighting. American forces were moving closer to Japan in the Pacific and victory was expected in that theater, as well, though an invasion of the Japanese homeland was expected to be very costly.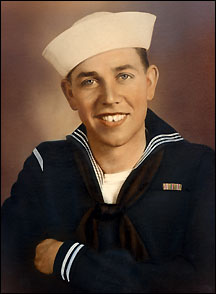 Amid this good news of advancing armies, German surrender, and the conquest of Pacific Islands, the John and Susan Braun family of Regal received very bad news. At the end of May 1945, John and Susan Braun were informed by the U.S. Military that their middle child, Othmar, was missing in action.
Othmar Braun enlisted in the Navy in May 1944. He was killed on May 4, 1945, when his destroyer was sunk in the Pacific Ocean.
Othmar had been aboard a destroyer, the U.S.S. Luce, the Brauns later learned, when it was sunk by a Japanese kamikaze airplane about 30 miles from Okinawa on May 4, 1945. His parents were informed by telegram that he was missing in action on the last day of that month.
His brother Virgil, then 11, and now the priest at Assumption Catholic Church in Eden Valley, still remembers the car coming to their farm and delivering the telegram to his parents saying his brother was missing in action.
"I deeply regret to inform you that your son Othmar Peter BraunŠis missing following action in the service of his country. Your great anxiety is appreciated, and you will be furnished details when received," stated the telegram.
It would be another month before the Navy told the Brauns that their son was considered killed in action. His name now lives on at the Othmar Braun American Legion Post #612 in Lake Henry, which was organized in April 1947. Urban Spanier, a founding member of that post, said they took the name to remember Othmar Braun and are proud to have kept his memory alive through their name.
Othmar was the fifth of nine children of John and Susan Braun, who farmed in Lake Henry Township, about three miles from Regal and six miles from Lake Henry.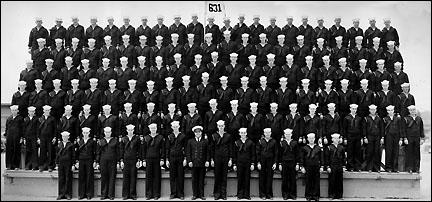 Mike Braun of Regal, who was 17 when Othmar was killed, described his brother as quiet, laid back, and pretty dedicated to the farm.
Mike and Virgil aren't really sure why Othmar decided to enlist in the Navy in May 1944. They suspect it might be because Mike and another brother who had just turned 18 were able to do all the farm work. "We had enough help at home, and he decided he wanted to go in the service," speculated Mike.
Othmar Braun (far left, second row from the top) posed for this picture with his training company in idaho in 1944 on his way to the west coast.
Othmar trained at the Great Lakes Naval Base for six weeks and then came home on a short furlough in the summer of 1944. "Then he left, and that's the last we seen him," said Mike.
Othmar, or Ottie, as his family called him, headed west and is known to have been stationed in Idaho in July 1944 and then was assigned to the U.S.S. Luce, a 2,050-ton destroyer, his only ship.
News from Othmar after he left for the war in 1944 was vague. "All you heard was the (war) news. We didn't really know where he was," explained Mike.
"I don't recall our parents getting one letter (from Othmar)," added Virgil.
Their parents got another letter from the Navy - actually from Othmar's commanding officer, Captain J.W. Waterhouse - in July 1945, informing them that the Navy believed that Othmar had been killed in action when the U.S.S. Luce was sunk. They actually had not had much hope that Othmar was safe when they got the first telegram, noted Mike, since being missing in action while at sea is not very promising.
When the official notice of Othmar's death arrived, it read: "It is with deepest sorrow that I am writing you concerning your son Šwho was reported missing in action following the sinking of he U.S.S. Luce on May 4, 1945. Although officially reported as 'missing,' I regret to say that a very careful review of all information available has failed to reveal anything which might lead to some hope of his survival."
The U.S.S. Luce was on... "duty about 30 miles west of Okinawa, when many enemy planes were seen approaching. Although some of these planes were shot down by our aircraft, and the ship was fully ready and firing with all its guns, a Japanese plane succeeded in coming in and attacking the ship."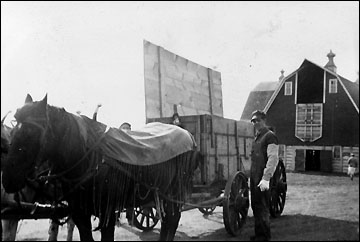 "For several minutes after the ship was hit, we continued shooting at other planes. We believed that the damage might not be fatal to the ship, but suddenly it began to go over and went down rapidly at about 8:15 a.m., carrying many of the crew with it."
Othmar grew up on this farm in Lake Henry Township.
"Other ships in the vicinity immediately came to their assistance and picked up the survivors as quickly as possible. In view of the excellent weather conditions, it is felt certain that every survivor was picked up at that time; however, ships remained in the area and made a thorough search but found no additional men."
"Your son's regular battle station was on a 40-millimeter gun. Othmar's calm and efficient work under the strain of enemy action on previous occasions contributed greatly to making that gun a thoroughly dependable unit of the ship's company. We know this was the case on the morning the ship was sunk."
"However, as this station was in the vicinity of the hit, and we believe that Othmar was killed instantly, as there were no survivors from this station."
"Nothing that I can say will in any way lighten the burden which is yours at this time, but I do hope that the knowledge of your son's splendid service and devotion to duty will give you some comfort and courage. He was a fine man and shipmate and a credit to our country. You may justly feel very proud."
American forces landed on Okinawa, an 80-mile island in the Ryukyu chain between Formosa (Taiwan) and Japan in April 1945, according to "The Second World War," by John Keegan. Previously, American forces had landed and taken Iwo Jima, destroying the Japanese radar station and taking a key airstrip in February and March 1945, at a cost of 6,821 dead and 20,000 wounded for the United States and nearly 21,000 dead (nearly all their force) for Japan, wrote Keegan. On Okinawa, according to Keegan, the Japanese tried a new strategy: allowing the American forces to land on the island and preparing a line of defense inland. The Japanese hoped to drive off the U.S. Navy with kamikaze attacks and thus strand the landing force.
The U.S.S. Luce was on picket duty about 30 miles from Okinawa when it was hit by a kamikaze on May 4, 1945. According to Captain Waterhouse, as told to the Associated Press in 1945, Japanese aircraft were attacking a destroyer, the U.S.S. Morrison, several miles away.Waterhouse said it was possible to see the dogfight of planes above the U.S.S. Morrison from the deck of the U.S.S. Luce around 8 a.m.
"Two Japanese suiciders broke off from the group, he related, and started their run together. They split and one attacked the bow and the other astern," according to the Associated Press. The captain swerved the boat and the first plane just missed, but the second hit the U.S.S. Luce amidships.
The U.S.S. Luce, according to Waterhouse, went down in about four minutes with 149 killed and missing and 40 wounded. The U.S.S. Morrison was sunk the same day by Japanese kamikazes; they were the 312th and 313st U.S. ships lost in the war with Japan, according to the Navy at the time.
The Brauns had three brothers to serve in the military in World War II - Othmar in the Navy in the Pacific, Walter in the Army in Europe (from the Normandy invasion to the Battle of the Bulge), and Al (who served stateside in Missouri). It was a miracle that their older brother Walter survived since he was in so many hot situtations, the brothers agreed.
Later, Virgil received his brother Al's wartime correspondence, including a single letter from Othmar, in reply to a letter sent to him by Al.
Written in February 1945, Othmar reported that he was OK, that he had had liberty (shore leave) in the Philippines, and had not seen much action. He had participated in the invasions of the Leyte Gulf and Luzon in the Philippines. "Had a few air attacks, but it wasn't much," wrote Othmar, who also reported visiting New Guinea, New Britain, and Manus Island (all part of present-day Papua New Guinea) and south of the equator.
Virgil remembers his mother reacting, in anger initially, to his brother's death. "Your raise 'em to be adults, and then they take them out and kill them," she said after learning about Othmar's death, he recalled.
Their mother was not anti-war, Mike and Virgil stressed, just naturally upset about the death of her son.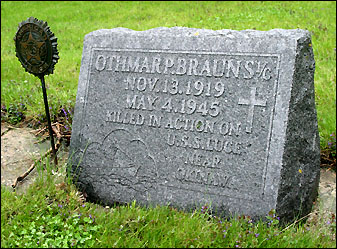 On top of that, "Lost at sea is so much worse," said Mike. Their parents were not only worried about Othmar being killed, but they were worried about his everlasting soul, since he was lost at sea, added Virgil. They were comforted by World War I veterans who told them that they usually received absolution right before going into action, and that it was likely that Othmar had, too, reported Virgil.
Though buried at sea, Othmar Braun has a memorial stone at St. Margaret's Cemetery in Lake Henry.
A memorial service for Othmar was held at St. Margaret's Catholic Church in Lake Henry in July 1945. A marker honors him in the St. Margaret's Cemetery.
Their mother took pride in being a Gold Star Mother, Mike and Virgil reported. "I'm sure she was real proud that they named (the Legion post) after him," added Mike.
Today, 60 years after the end of World War II and after the death of a young Regal naval seaman at the hands of a kamikaze pilot, Othmar Braun is remembered every Memorial Day at the American Legion Post bearing his name.
---
Contact the author at editor@paynesvillepress.com • Return to News Menu
Home | Marketplace | Community
---