Laurie Barten learned a lot during her semester abroad in Australia, but the most important lesson she learned was that no matter where she goes, people really aren't that different. They just have different ways of doing things.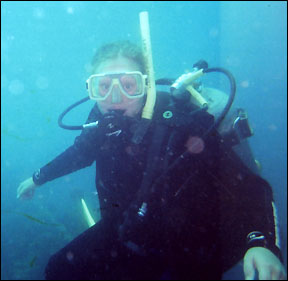 Barten, a 2002 PAHS graduate, started her four-month adventure last summer, and remained in Townsville, Australia, where she attended James Cook University, until late November. Learning about the customs and culture of the native Australians was among the best parts of her trip, she said. After taking a class about the Aboriginal people of Australia, she actually got to spend time with a group of natives where she learned to sing and dance like they do. While she enjoyed the experience, she was saddened by the amount of prejudice that still plagues the natives. But change is slow, said Barten, noting that the Aboriginals only won the right to vote in the late 1960s.
During her semester abroad in Australia, Laurie Barten enjoyed many high adventures, one of which was scuba diving at the Great Barrier Reef.
During her stay, Barten, a third-year student at the University of Minnesota in Morris, also learned that high-adventure fun could be found almost everywhere, and that Australians like to have fun. She went scuba diving on the Great Barrier Reef, where she swam among giant sea turtles, sting rays, and breathtaking coral. Petting a giant sea turtle while diving at the Yongala shipwreck was especially exciting, she said. Also on Barten's list of high-adventure fun was skydiving, whitewater rafting on the Tully River, climbing in an Australian rain forest, and sea kayaking.
"I'd never done any of that stuff before," she said, and she wanted to try everything before she went home, she added.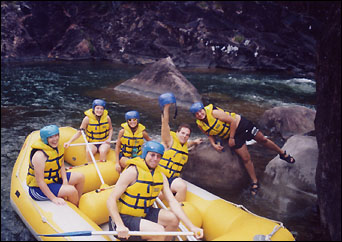 But all of her high-adventure fun wouldn't have been the same without the friends she made. Barten's new friends included others American students studying abroad as well as local students. During her visit, she spent some time on a farm where she made even more friends, she said.
Barten chose Australia as the destination for her semester abroad because she wanted to travel, but she wanted to go to a warm, English-speaking country.
Whitewater rafting on the Tully River was just one high-adventure activity Laurie Barten (right, leaning) tried while studing abroad in Australia.
And while she learned that many things were the same in Australia, she was surprised at some of the differences. "Kangaroos were everywhere," something she will never see at home, Barten said, grinning, And while most of the food was pretty good, some of it was just too weird, she said. "Vegemite is disgusting!" she exclaimed, and Australians don't use French dressing, a staple for Barten.
And Barten's adventure didn't stop in Australia. Before returning home, she detoured to New Zealand for a visit where she learned a little about sheep farming and saw where "Lord of the Rings" was filmed. After New Zealand, a week in Fiji -where time seems to stand still, said Barten - provided a much-needed break before returning to school in Morris.
While Barten would like to return to Australia someday, she would like to visit other parts of the country, especially Melbourne and Perth. But that won't be soon, she said. For the time being, she needs to concentrate on finishing school.
She plans to go the the University of Minnesota's School of Pharmacy in the Twin Cities this fall where she hopes to earn her doctorate of pharmacy.
---
Contact the author at editor@paynesvillepress.com • Return to News Menu
Home | Marketplace | Community
---