Virg Vagle - who coached football and wrestling for 70 seasons combined at Paynesville Area High School, including winning four state team titles in wrestling - was inducted into the Minnesota State High School League Hall of Fame on Thursday in Minneapolis.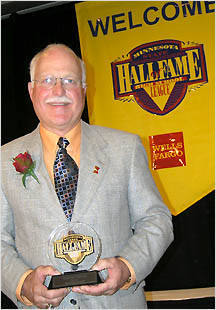 With the induction of ten new members last week - including Olympic swimming gold medalist Tom Malchow and three-time Olympic skier John Baurer - the Minnesota State High School League (MSHSL) Hall of Fame now boasts 253 members.
Virg Vagle was inducted into the MSHSL Hall of Fame at a luncheon in Brooklyn Center on Thursday, May 18.
Vagle is the fourth wrestling coach to be inducted, joining Don Dravis of Staples (inducted in 2002), Ron Malcolm of Anoka (inducted in 2003), and Gerry Gingles of Canby (inducted in 2005).
"Thank you to the Minnesota State High School League for sponsoring great programs for our youth and recognizing participants in this manner," said Vagle in his acceptance remarks. "Induction in to the MSHSL Hall of Fame is an honor I will cherish for the rest of my life."
"I am especially grateful to my wife Pat, longtime assistants Bob Bowden and Steve Fuchs, and athletic director Jim Loomis for your dedication and loyalty. My family, all the athletes, coaches, administration, parents, fans, and media that I had a chance to work with at Paynesville also deserve a special thank you. It is your support and contributions that made this all possible," he added.
The MSHSL Hall of Fame, started in 1991, includes many notable Minnesota athletes and coaches, such as 1980 Olympic hockey coach Herb Brooks, Gophers legend Paul Giel, NBA Hall of Famer Kevin McHale, and Major League Hall of Famers Paul Molitor and Dave Winfield.
Vagle, who taught mathematics and physical education at Paynesville Area Middle School for 37 years, coached varsity wrestling for 38 years and football for 32 years.
In 1977, Vagle brought his first wrestling team to the state tournament, finishing third. Over the next quarter century, the Bulldogs would go to state 17 times and win four state titles: in 1987, 1990, 1991, and 2000. His wrestling teams - including his five sons - won conference titles 29 times and had an 18-year undefeated streak in conference matches from 1975 to 1993.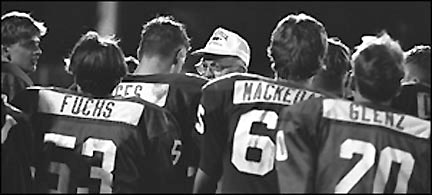 Vagle broke the state record for most career coaching victories in wrestling in 1997 and amassed 661 wins during his 38-year career. He held the record for wins until January 2004, just before his retirement from wrestling coaching in March 2004.
Virg Vagle coached wrestling in Paynesville for 38 years, including four state titles, and football for 32 years, including a state trip in 1979.
Vagle also coached nine individual state champions in wrestling and Bulldog alumni have gone on to win NCAA titles in wrestling (Pat Neu, for the Gophers, in 1977) and set school records (Brad Fenske, at West Point, though his career win mark has since been surpassed).
From 1975 (when wrestling switched to a dual match format for the team championship) until 2004, when Vagle retired from wrestling coaching, four years after retiring from the teaching classroom, only three teams in the state qualified for more state tournaments in wrestling. They are Apple Valley (23), Canby (23), and Staples-Motley (18). They are also the only three schools to have more state titles than the Bulldogs' four during that same span: Apple Valley (13), Canby (7), and Staples-Motley (7).
Vagle, a native of Lake Bronson, Minn., who still lives in Paynesville, actually played basketball at Oak Grove Lutheran High School in Fargo and played football at Augsburg College while earning his bachelor's degree. He was an assistant coach in wrestling for one year before taking the reigns of the Bulldogs program in 1966-67 and turning it into a state power.
Vagle also coached the Bulldogs football team to the Class A state quarterfinals in 1979...the school's only state appearance in football.
Vagle was inducted in the Minnesota Wrestling Hall of Fame in 1990 and was a charter member in the Bulldog Hall of Fame in 2005.
---
Contact the author at editor@paynesvillepress.com • Return to News Menu
Home | Marketplace | Community
---