The blues can visit people in a number of ways. Roger and Joe Schaumann are happy to have welcomed the blues through music.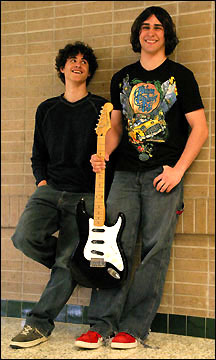 Imagining the lifestyles of rock 'n' roll and blues artists may likely bring to mind traveling for long nights on the road, living from hotel to hotel, and crowding into an R.V. every day for months. Made real, this would be a dream come true for the brothers - Roger, a high school senior, and Joe, a sophomore - who say their dreams are to tour together in a band someday.
Brothers Joe Schaumann, a sophomore at PAHS, and Roger Schaumann, a senior, have deepened their friendship through music.
Roger and Joe grew up in the same household ten miles east of Paynesville, near Rice Lake, along with six other siblings and recall discovering their passions for music in their parents' garage. "That's where the magic happens," Joe said.
Step into the Schaumann garage during a jam session, and you'll likely find Roger and Joe among a stock of instruments including 16 electric guitars; six amps; a drum set; a bass guitar; and an acoustic guitar, which they referred to as "old trusty."
For Roger, blues-guitar is the focus of his dedication in addition to some classic rock with, according to Joe, "a little bit of roll." Joe plays the drums mainly, as well as the bass and electric guitars.
Music, to Joe, is "the one thing I can really understand and I'm good at. It just clicks."
Roger started listening to and watching Stevie Ray Vaughan on CDs and DVDs about six years ago, as suggested by his older brothers, Aaron and Craig. That's when he said it clicked for him. He also watched his older brothers play their instruments - Aaron plays the guitar and Craig plays the guitar and drums. "Aaron just played the guitar, and I thought it was really cool. I thought he was the best ever," Roger said. Now, he said he plays the guitar about four hours a day.
"Craig's extremely good at the drums," Joe said and recalled him playing music in the garage one day when he asked Joe to pick up a guitar. That was about three years ago. Now, Joe is confident with his abilities in music, offering, "I just want to play it every day. I'll just play if you ask me to play."
Roger Sr. and Gladys Schaumann have also been instrumental in their sons' desires for music by allowing them to practice...amplified...in the garage at a moment's notice and, according to Roger, by saying that they are proud of him. Gladys has especially been a role model for their interests in music, as they said they remember her playing the piano and Spanish guitar while growing up. In 1999, the family of 10 moved from northern California to Paynesville.
Roger plays bass guitar in the youth worship band at Crystal Hills Assembly every Sunday morning with his brother Craig, who plays the drums, and Joe, who substitutes on the drums. They said they also participate in the church youth group on Wednesdays.
Their band, which is still to be named, currently has four members, according to Roger and Joe. Roger said he has written about 10 songs without lyrics, yet he has not performed them in public. "We'd probably start out playing covers," he said.
Roger has performed cover songs in solos at high school band concerts, including "Bohemian Rhapsody" by Queen and "Riders On The Storm" by The Doors last week. Roger and Joe also performed "Stairway To Heaven" by Led Zeppelin with the high school band last December.
This spring, they were also chosen by the PAHS student body to play as part of a reward event for the students, which included ice cream.
Roger said of performing, "Everybody likes music, pretty much," and explained that if he could attend any music performance in history, it would be to see Stevie Ray Vaughan live at the El Mocambo. Joe said he would see Stevie Ray live at Montreux.
Other artists the Schaumanns emulate are Eric Clapton, Lynyrd Skynyrd, Jimi Hendrix, The Who, Led Zeppelin, AC/DC, ZZ Top, and Metallica. "We know the real good music," Joe said.
Roger said he dreams of touring with Clapton some day. He brings his guitar, a 2006 Gibson Les Paul, along with him to school every day, as well as his guitar pick, which he carries in his pocket at all times. "It's my lucky pick," he said.
The two brothers said that they envision staying together throughout their music careers and that they consider each other to be a close friend. Joe said of his relationship with his brother, "Me and Roger are probably like best friends ever."
They both said that students and teachers have taken a liking to their talents, especially the history teachers who grew up in the era of the music that they play. Roger graduates from PAHS this spring, and is looking into a music school in St. Paul, where he said he would most likely study blues and guitar. This summer, Roger and Joe said they hope to get some gigs, including graduation parties.
For those beginning to play the guitar, Roger said that the first five years will be challenging, and he advocated, "Never give up. It's a cliche, but practice makes nearly perfect."
Joe agreed, "If you don't take it into obsession, you're not gonna be good. You have to play like crazy."
---
Contact the author at editor@paynesvillepress.com • Return to News Menu
Home | Marketplace | Community
---