This year's recipients of the Gladys Deadrick Award, which honors outstanding volunteers for senior citizens in the Paynesville area, are Jack and Nancy Larsen. The Larsens received a framed certificate at a volunteer appreciation dinner at the Paynesville Area Center in April.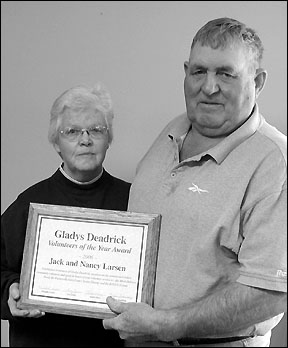 Lindsay Hull was the recipient of last year's award, when it was presented for the first time. The award honors volunteers at home-delivered meals, the Paynesville Area Center, the R.O.S.E. Center, and senior dining.ynesville Area Center in April.
The Larsens deliver meals to seniors every Monday and fill in when needed. Nancy helps to set the tables for senior dining at the Paynesville Area Center and helps with local fundraisers. ynesville Area Center in April.
Nancy and Jack Larsen were given the Gladys Deadrick Award in 2006.
At the R.O.S.E. Center, Jack and Nancy have offered 624 hours of their time. They volunteer a variety of ways: assisting caregivers, chatting with ailing seniors over the phone, driving seniors to doctor's appointments, visiting folks at their homes, and working in yards.
Jack Larsen's humble reasoning for volunteering was that there was "nothing else to do."
Nancy said volunteering was one way to "get you out of the house." She said she volunteered "because I had the free time and because I volunteered at school with special ed."
Jack and Nancy have been married for 44 years. Jack worked in the turkey industry for 45 years, retiring in 2002. Born in downtown Paynesville, Nancy still lives in the home where she grew up. She worked as a librarian at the elementary school for five years. Together, they raised three sons and have three grandchildren.
Hull was recognized last year for his time spent bringing ladies to their hair stylists, delivering meals to senior citizens, and driving seniors to doctor appointments.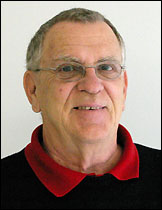 Born in North Dakota, Hull taught English, band, and choir for nine years before moving to Paynesville. At PAHS, he worked as the librarian for 30 years.
Hull currently serves as the chairman of the R.O.S.E. Center board and is on the site board for Catholic Charities, which operates senior dining at the Paynesville Area Center. Hull also organizes dances at the area center each month, helps seniors with tax preparation, and mows lawns.
Hull said his biggest concerns for both the area center and the R.O.S.E. Center are reaching people and raising funds. So far this year, 8,000 hours of volunteer work have been provided at the R.O.S.E. Center alone, according to Hull. Volunteer activities are raking and mowing lawns, washing windows, and providing transportation. "Whatever people want to do," Hull said.
Lindsey Hull won the inaugural Gladys Deadrick Award for his volunteer efforts in 2005.
The Gladys Deadrick Award seeks to remember those volunteers who follow in her footsteps in serving the community. Deadrick, who died in 1991, started the home-delivered meals program in Paynesville and was an advocate for senior citizens.
The three recipients of The Gladys Deadrick Award hold the woman behind their accolade in high regard, agreeing that Deadrick has been inspirational toward their own spirits of volunteerism. Nancy, who was a longtime friend to Deadrick, recalled washing dishes at Deadrick's house when she was in high school. Jack noted that Deadrick was on the council for the aging in St. Cloud. "She was real interested in the seniors," he said.
Nancy said Deadrick was one of the instigators of the senior center, and served on various local boards.
Deadrick was tenacious in her pursuits, according to Hull, who also knew her. "When she got her teeth into something, she never let go," Hull explained.
The Gladys Deadrick Fund, which she started to support her home-delivered meals program, was disbanded last spring, with part of the proceeds going towards the Gladys Deadrick Award. A Gladys Deadrick Scholarship was also started at PAHS to honor seniors who volunteer and serve the community.
---
Contact the author at editor@paynesvillepress.com • Return to News Menu
Home | Marketplace | Community
---