Legion rededicates Olson memorial plaque at open house
This article submitted by Linda Stelling on 5/24/00.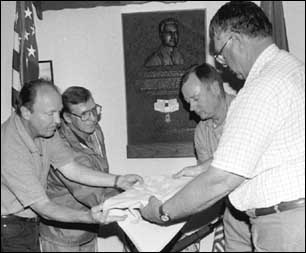 The Paynesville American Legion held their grand opening Friday night. As part of the festivities, they rededicated Ken OlsonŐs memorial plaque.

On hand for the rededication were his parents, Ben and Lydia Olson, Paynesville, family members, and several classmates from the University of Minnesota. The plaque is located in the front lobby of the new American Legion building.

Removing the banner covering Olson's memorial plaque are college classmates of Olsons: (L to R) David Vold, Jim Berian, Lydon Sletto, and Don Mueller.

Reminiscing about Olson at the rededication ceremony were college classmates Don Mueller and David Vold.

While serving in Vietnam, Ken Olson was killed in action on May 13, 1968. During a firefight with an enemy force, Olson threw himself upon a grenade and pulled it into his body to take the full force of the explosion, saving the life of a comrade-in-arms.

Ken Olson was posthumously awarded the Medal of Honor in 1970. He is the only Paynesville graduate to receive the medal.

The memorial is a bas-relief portrait of Olson by Minneapolis artist Rodger Brodin, a Vietnam veteran himself. Another plaque is found on display in the commons room of the student center on the St. Paul campus of the University of Minnesota. He is the only known University of Minnesota graduate to receive the medal of honor.

There is also a scholarship fund at the U of M in honor of Olson. According to Lloyd Peterson, former U of M Regent, the scholarship fund has $10,000 in it to help agriculture students.
---