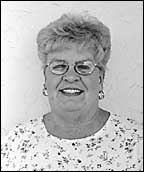 Seeing her name in big letters on her television last Wednesday morning startled Judy Cummings, even though she had been called and told to turn on her TV. Cummings was picked as WCCO's "Mom of the Day." "I was totally shocked. I had a hard time believing what I was seeing," Cummings said.

Each day in May - in honor of Mother's Day - WCCO named a "Mom of the Day." They selected a mom from the many letters and e-mails they received.

Cummings raised three daughters in southern California. "I knew it had to be my youngest daughter, Leslie, who sent in the nomination," said Cummings, who moved to Paynesville seven years ago.

Later that morning, Cummings called her daughter in southern California to verify that she had sent the nomination. "Leslie and I had been talking about television promotions, which was something I missed from California. I mentioned WCCO was doing something for Mother's Day," Cummings said, "Leslie took it from there."

Judy and her youngest daughter, Leslie Perez, who lives in Frezno, talk three times a day, six days a week. "Even though my mom lives so far away, I feel like she is just down the street," wrote Perez in the nomination for her mother.

"My mom is the most beautiful, thoughtful, kind, and considerate person I know, and I wish everyone was as fortunate as my sisters and I to have a mom just like her," Leslie added.

Cummings' co-workers, Marilyn Fuchs and Sue Putzke, decorated the Paynesville Municipal Liquor Store with a banner in her honor. "It was great. The thought behind it was special, as that wouldn't have happened if I were still in California," she said.

Friendliness like that is what brought her from California to Minnesota. She picked Paynesville because of her friendship with Eileen Hertzberg. The two women were both school bus drivers in California together and have been best friends for 35 years.

Cummings has lived here seven years and wouldn't move back to California for anything. "I wanted to leave the chaotic world of southern California where it's overpopulated and overpriced," she said.
---
Contact the author at paypress@lkdllink.net • Return to News Menu
Home | Marketplace | Community
---