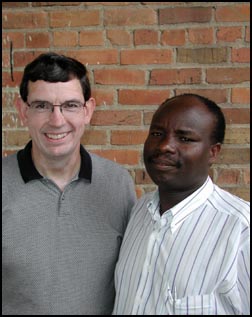 Two pastors got acquainted over breakfast during a conference on expository preaching at the Stephen Olford Institute in Memphis, one from Paynesville, Minn., and the other from Eldoret, Kenya.

Pastor Rich Hubert of the Evangelical Free Church in Paynesville periodically takes continuing training at the institute. Pastor Gabriel Owino Muga was making his third trip to Memphis to train at the center, which attracts pastors from around the world.

Pastor Rich Hubert and Pastor Gabriel Owino met at a conference in Memphis, which led to the Kenyan pastor's visit to Paynesville

"I gave him my business card and told him if he ever had an opportunity to come to Minnesota we'd love to have him," explained Pastor Rich.

Pastor Rich didn't expect Pastor Gabriel to call so soon. Less than a week later, after his plan to travel and speak in Arkansas fell through, Pastor Gabriel was on the phone to Paynesville and then on a bus from Memphis to St. Cloud via Chicago.

"All I can say is I've seen the love of God," said Pastor Gabriel. "It takes the love of God for someone to tell you, 'Just come.'"

It takes faith in God to take a two-day bus trip to a place called Minnesota, knowing little about the place. "When he arrived here," explained Pastor Rich, "we had to get the map out because he was not sure where he was."

Pastor Gabriel arrived on Saturday, May 12, and met the Evangelical Free congregation on Sunday. He preached twice about his ministry, family, and life in Kenya, and shared his story in Sunday school as well. He also helped Pastor Rich with services at nursing homes and preached at the church on Wednesday evening.

Pastor Gabriel was born and raised in the Kenyan city of Kisumu, along the eastern shore of Lake Victoria. Lake Victoria is the second largest freshwater lake in the world, after Lake Superior. It is also a chief source of the Nile River.

After heeding God's call to the ministry and attending Bible college, he lives and works in Eldoret, about 175 miles northwest of Nairobi, the capitol of Kenya. Eldoret is in the mountainous region of Kenya that produces many world-class distance runners.

His independent church is similar to a Baptist congregation, he said. He and his wife have five children.

The official languages in Kenya are English and Swahili, but more than 100 tribal languages exist as well.

Pastor Rich's congregation at the Evangelical Free Church has experience in overseas ministries, having actively participated in mission trips to Central America. The opportunity to meet and listen to Pastor Gabriel has a lot of value in opening eyes to different cultures and lifestyles, said Pastor Rich.

The congregation's reception of Pastor Gabriel was very warm, they both said. "We're going to kind of adopt them as a sister church," said Pastor Rich. "They need to build a building, and we're going to assist them."

In addition to introducing Pastor Gabriel to the Evangelical Free congregation, Pastor Rich and family are showing Pastor Gabriel about life in rural America. Pastor Gabriel had a chance to drive a tractor, ride in a semi-truck, and take a boat cruise on Lake Koronis.

Pastor Gabriel left on Saturday for a revival meeting in Washington state.

The two pastors plan to keep in contact, by phone and by letter. Pastor Hubert has an invitation to visit Kenya on an evangelistic mission in February 2002. This opportunity looks more enticing than ever, but Pastor Hubert has not made a final decision about the possible trip.
---
Contact the author at paypress@lkdllink.net • Return to News Menu
Home | Marketplace | Community
---