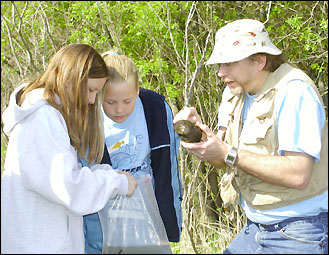 Fifth graders at Paynesville Area Elementary School were treated to a day of fun in the sun at the Koronis Regional Park last week. And, while some may not have realized it, they walked away from the event knowing more about the importance of water and keeping our water clean.

The water festival, held on Friday, May 16, was sponsored by the wellhead protection committee, which was formed to protect the city's ground water and keep it safe for drinking. The festival was organized by the committee along with teachers.

Instructor Jay Thompson, right, led students on a scavenger hunt for tiny, spinelss animals in water during his invertebrate demonstration.

Volunteers from various environmental groups instructed students on different aspects of water conservation: groundwater, fish and lake management, erosion control, pollution, and the water cycle.

The idea of holding the water festival came up at a meeting of the wellhead protection committee, said public works director Ron Mergen. The committee had been toying with the idea of an educational program for some time, he said.

Fifth grade teacher Mary Stock said the school was also interested in a program for kids, so the two groups got together and looked at similar programs in nearby schools before finalizing plans for the Paynesville program.

Science teacher Jay Thompson led students on a scavenger hunt for tiny, spineless animals that make their homes in water during his invertebrate demonstration. After catching snails, mayflies, and other small creek creatures with nets, students examined them under microscopes. "I liked looking at the different bugs," said fifth grader McKenzie Quade.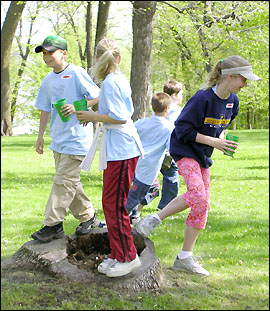 Thompson also demonstrated how rainbows are formed and how anglers try to duplicate waterborne insects at various stages of life.
Fifth graders Amy Dittman and Kayla Leiser said they liked learning how pollution travels to lakes and streams. Al Kuseske of the North Fork Crow River Watershed District demonstrated how pollution travels using a model and water. Until then, some of the kids didn't realize that something on the ground miles away could eventually end up in a lake or stream.
Fifth graders Jordan Kohnen, Kayte Thompson, and Aly Schultz play a lively game of "fish tag" during the water festival last week at the Lake Koronis Regional Park.
Bruce Gilbertson of the Minnesota DNR got the youngsters moving in a game of "fish tag" where children became minnows, perch, northerns, and humans. The game taught them about the predator/prey cycle that exists in streams and lakes.
Other speakers were: Cathy Villas-Horns of the Minnesota Department of Agriculture on groundwater, Peter Jacobson of the Koronis Lake Association along with Greg Berg and Aaron Meyer of the Stearns County Soil and Water Conservation District on vegetation and erosion control, and Dave Neiman of Rural Water along with Dale Lorenz of the Koronis Lake Association on the water cycle.
Children began preparing in class for the water festival a few weeks ago by brushing up on their knowledge of water and pollution.
Other high points for the kids were receiving a t-shirt and a goody bag, compliments of the city.
Organizers hope to make the water festival an annual event.
---
Contact the author at editor@paynesvillepress.com • Return to News Menu
Home | Marketplace | Community
---