Buermann starts new business - Magic Machines
This article submitted by Linda Stelling on 5/20/98.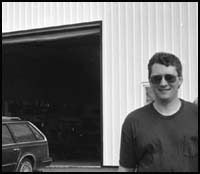 John Buermann, Paynesville, always wanted to own his own business. In March 1998 he started the Magic Metals Machine Shop at his home on 390th Street, just west of the outlet bridge on Lake Koronis.

"With today's technology, the territory is limitless," Buermann said. "I hope to be able to serve the area farmers and be able to offer them same day service. New parts are expensive. My goal is to get the farmer back into the field as soon as possible."

Buermann has more than 20 years experience in the machine shop business and finds owning his own business challenging. "So far business has been real good," he said. Buermann has received some referral work from area implement dealers.

"I can do things other machine shops don't have the time to do quick," he added.

---