700 Stearns quietly observes its 10th anniversary
This article submitted by Linda Stelling on 5/20/98.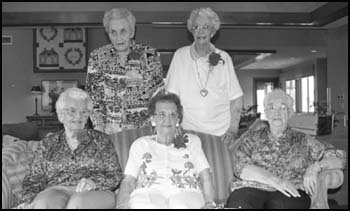 Residents at 700 Stearns Place quietly celebrated its 10th anniversary last week.

On Wednesday, the residents were treated to a potluck barbeque and on Friday morning a continental breakfast. At the breakfast, five ladies received special recognition. They were the very first residents to move into 700 Stearns.

Emily Hoeft lived in the Koronis Manor until her apartment was ready. Hoeft was the first person to occupy the new facility. Following close behind her were Luverne Liebrenz, Julia Hammer, Olive Jahnke, Tom Tintes, and Janet LeMasurier. Tintes was unable to attend the celebration as he was recently hospitalized.

Liebrenz said everything fell into place for her. Her husband died and she moved into the facility soon after. "I really love living at 700 Stearns," she added.

Socialization is a big part of 700 Stearns. The facility has its own bus and residents have taken trips to Itasca State Park, Duluth, Como Park Zoo, the Old Log Theatre, to name a few.

Every Friday residents have the opportunity to go out for breakfast. "First come first serve," Esther Lunz said. "The bus only holds 14 people, so whoever signs up first is eligible to take the trips."

The residents also go out for supper once a week and take other excursions as well.

The residents are provided their noon meals every day, but additional daily meals may be purchased. The hospital cooking staff does the cooking for the hospital, manor and congregate housing.

Residents use the outside patio, which is equipped with several tables, sun umbrellas and a gas grill. They also have planter boxes in which they can grow either flowers or vegetables.

Both floors of the facility have washers and dryers, a folding area, ironing board and hanging rack. While clothes are washing or drying, residents may enjoy a game of cards, visiting with neighbors or reading in the laundry waiting room.

The facility also has a library on the second floor so residents can sit and read or take books to their own apartment. The books have been donated by staff, tenants and the community.

The congregate housing unit has 30 apartments which are all full and there is a waiting list for prospective renters. There are 10 two-bedroom apartments and 20 one-bedroom apartments. The apartment sizes vary and are not all the same. At present there are two couples living at 700 Stearns. There are 26 women and six men living in the facility.

"700 Stearns is not a nursing home but an independent living facility," Lunz added. "Luverne and Emily were among the first to have their money put down on their apartments before the place was built."

---