Lindsay Hull will retire after 39 years of teaching
This article submitted by Aaron Ziemer on 5/19/99.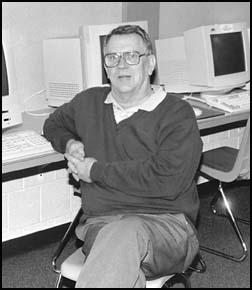 After 30 years at PHS and 39 years of teaching, Lindsay Hull, Paynesville's head librarian will retire.

Hull started teaching in 1960. He taught for nine years before being hired by the Paynesville Area School District in 1969.

Hull was hired as the high school librarian here. The original position he was looking at was middle school English and speech.

I originally wrote my application out for that position, said Hull.

Hull was hired the year that Paynesville had just switched to the new high school.

There were probably about 18 to 20 new teachers hired that same year, said Hull.

When Hull was hired Bob Soukup was the principal of the high school and Don Torbenson was the superintendent of the district.

Hull said he was hired the same year as Norm Tigner, Bev Strand, and Jerry Meyer.

The first year I was here is still the largest class in the new (high school) building, said Hull.

Hull also added the class that graduated in the first year was about 140 students.

During Hulls first 10 years at Paynesville he was part of many plays. Hull and Marilyn McCollar directed many plays.

We directed about five to six plays a year, said Hull.

Hull was a band director at one of the schools he taught in North Dakota before coming to Paynesville. Since he had some experience working in the arts he fit in well directing plays here.

Since Hull has been a teacher for so many years he has seen many technology changes.

In his 30 years in Paynesville many things have changed. The library used to have just a card catalog to help students find what they needed, now the library has a computer system that can allow the students to see what books any of the buildings have, but it will also allow them to search college libraries and the Internet.

The high school has had many technology advancements since Hull has been here. Paynesville Area High School now has unlimited direct access to the Internet from just about every computer in the building.

The one problem about the Internet is that there is no documentation, said Hull.

He said that students can find information on the Internet, but not all of it was going to be credible information.

Hull also said the technology that it is nice to have, but he says the card catalog will still always work, whereas a computer system could have a glitch in it.

Hull decided to retire because he thought it was just time to do so.

It was just time to retire, said Hull. I have been going to school every day it has been open since I was six years old.

Hull also said he wanted to retire young enough so he could still enjoy it and be able to see some things he has not been able to see while he has been teaching.

Hull really does not have any long- term plans as to what he is going to do after retirement.

He does plan to travel around the country for awhile. He plans to see relatives in Florida, Texas, Colorado, and see some friends in New Jersey. After that he is going to take it one step at a time.
---