Karen Knowlton will miss working with her students
This article submitted by Linda Stelling on 5/19/99.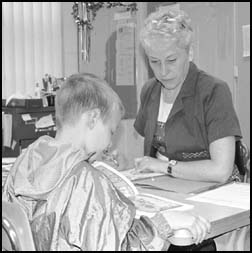 Karen Knowlton has taught speech/ language in the Paynesville Area School District 30 years.

"I can still remember when I was hired," Knowlton said. "I was working at the grocery store downtown while I attended college. Agnes Dreis hired me in front of the produce department. She kept asking me, when she shopped, when I would be through with my schooling."

Dreis was the elementary principal at the Paynesville Area Elementary School. "I've only worked under two principals, Dreis and Gary Heineman," she added. Knowlton attended South Dakota State University for two years and finished her schooling at St. Cloud State University. She did her graduate work at Moorhead State.

When Knowlton started at the school she worked with students needing speech therapy in kindergarten through 12th grade. After Karen Mumm was hired, Mumm took over the preschool through first grade students.

"When I started, I enjoyed working with the little ones," Knowlton said. "But I can't see myself getting down on the floor with the kids anymore," she added. Knowlton works with a variety of students, some with physical disabilities and others with speech problems. She usually has two or three students in her room at a time.

At the elementary school, she works with 15 to 20 students to improve their speech. At the middle/high school, she works with an additional 15 students. In addition, she has 10 to 15 more students that "the team" (all the special education teachers) handles together.

Knowlton explains that speech therapy is a varied field/area. "You encounter students with all kinds of ability levels. Each member of the special education team has their expertise area. Each member is unique with different skill levels," she said.

Knowlton attends a lot of continuing education courses. "My field is so diverse, there is so much a person needs to know," she said. This year she learned more about augumentive communications, a method of communi-cating for nonverbal students. "It has changed the way some students learn and open up to others. We have some students who can't interact at milk break with the rest of their class. Now, they have learned ways to communicate differently, they look forward to spending more time with the other students."

Knowlton has noticed a change in the students over the years. "The students are becoming more challenging. They are facing a lot of issues, not all of their own making," she stressed.

"Students are struggling with time commitment," she added. "I can give them a short assignment and they will come back and say they didn't have time to get it done."

Knowlton said students and parents need to slow down. Kids get so involved in their activities; they are on the fast track and don't take the time to do things properly."

After retirement, Knowlton said she plans on being a substitute teacher in the special education department. She also plans on traveling south for the winter with her husband, Darron.

"I enjoy spending time with Darron. When he was making plans for his retirement, he made the decisions he needed to and he has supported me in mine," she added.

"Darron has been anxious for me to retire so we could travel more," Knowlton said.

Knowlton stressed the students in Paynesville are an unusual group of kids as they are so accepting of having students with disabilities in the classroom with them. "They don't shun the students but make them feel welcome and part of the group," she added.
---