Werlinger selected as Girls State delegate
This article submitted by Linda Stelling on 5/19/99.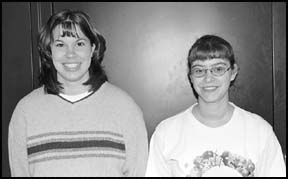 Becca Werlinger, left, and Candice Utsch, right, were selected to represent Paynesville at the 53rd annual Minnesota Girls State sponsored by the American Legion Auxiliary.

Werlinger, daughter of Tony Werlinger and Barb Werlinger, will be the delegate, and Utsch, daughter of Chuck and Ruth Utsch, will be the alternate.

Girls State is being held on the campus of Bethel College, St. Paul, from June 13 to 19.

Girls State is a learning by participation experience. Girls will learn about the political process by holding their own caucuses, platforms, and conventions. They will elect a party caucus chairman, caucus clerk, and four delegates to the party county convention. The girls will also hold their own city elections.

Girls attending Girls State will learn about Americanism and the judicial system.

Werlinger is a member of the marching band, pep band, and concert band where she plays clarinet. She is also a peer helper, in speech, and plays volleyball. Outside of school, Werlinger has earned her Silver Award in Girl Scouting, plays the piano, and enjoys spending time outdoors.

Utsch is a cheerleader and works at the Roadside Tavern.
---