Vlaminck trying to change County Line Bar and Grill's image
This article submitted by Linda Stelling on 5/19/99.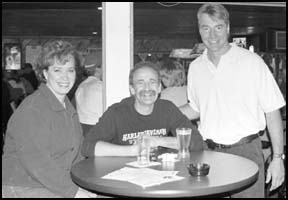 Since purchasing the County Line in February, Jerry Vlaminck, Hutchinson, has changed the name of the bar to the County Line Bar and Grill.

Vlaminck also owns a commercial cleaning company in Hutchinson which does business in Minnesota, South Dakota, and Wisconsin.

However, he is no stranger to the restaurant business. In the 1970s, Vlaminck worked as a bus boy at the Farmer's Daughter in Litchfield and later owned the business. Vlaminck has worked with Sheridan Hotels in Alaska and TGIF in Ohio.

"I feel owning the Farmer's Daughter was good experience as I learned a lot about the restaurant business," Vlaminck said.

"I learned about the County Line through my insurance agent. After visiting the place a couple of times, I felt it was a good deal, a win-win situation," Vlaminck said. "The place hasn't had the best reputation recently and I hope to change its immage."

He has done some remodeling, finishing what former owner Francis Liebl started. Vlaminck is presently building a wraparound patio on the exterior of the building. He hopes to have a patio bar outside this summer, as well as a volleyball court at the east end of the building.

Vlaminck has met with the Regal City Council about getting a Sunday liquor license. The Sunday liquor issue will be put before the voters of Regal on July 1.

Vlaminck has hired a new kitchen manager, Brandon Gunderson, who has set up a full bar and grill service, offering noon and nightly specials and a full menu. Michelle Geer is the bar manager.

Among their specials are Buck Day, turkey club with fries, French dip, fried walleye sandwich, rib sandwich, chicken dinners, and more.

The County Line Bar and Grill offers live music every Tuesday, Thursday, Friday, and Saturday.

Different summer promotions planned by Vlaminck include Regal Rockstock, a rock and roll festival with live music on June 26 and 27; Cornstalk Fest on July 23 and 24; a professional rodeo from South Dakota on Aug. 14 and 15; and the ABATE State Motorcycle Rally, Sept. 3 to 6.

The County Line Bar and Grill is also available for wedding receptions, class reunions, and fund raisers.

Vlaminck is planning a grand opening for Friday, May 21. He plans on giving away tickets to Cornstalk and Rockstock, as well as other door prizes.
---