Two educators were honored for devoting their careers to children during Paynesville's first annual Kid's Day International celebration on Saturday.

Superintendent Howard Caldwell, of the Paynesville Area Schools, and deputy Tim Kantos, the Stearns County D.A.R.E. officer, were honored for their different ways of educating children.

Caldwell has dedicated his entire career to educating children. He assumed the duties of superintendent in Paynesville in 1989 after spending 20 years teaching math and science and acting as principal and superintendent in a half dozen communities in Minnesota. After 35 years as an educator, Caldwell will retire in June.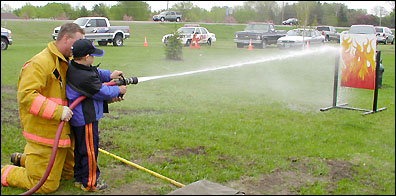 Dr. Liz Greguson of the Paynesville Chiropractic Clinic, who organized the event, noted how difficult it is to be responsible for the education of thousands of children, as Caldwell has been. Educators don't always get the recognition they deserve, she added.
Michael Leverington, assisted by Paynesville firefighter Jamie Soine, aims a firehose at a pretend fire during the first annual Paynesville Kid's Day on Saturday. More than 120 area kids participated in the event which emphasized health, safety, and caring for the environment.
"I'm pleased that I was considered an appropriate recipient of this award," said Caldwell. There are many other people in the community who also deserve to be recognized, he added.
Kantos has been the D.A.R.E. officer at the Paynesville Area Elementary School since 1993, when the 10-week drug and alcohol resistance program was first introduced to local fifth graders. Since then, Kantos has taught the program to nearly 1,300 PAES students. His goal is to help students lead "healthier, happier, lives," Kantos told the Press in 2003.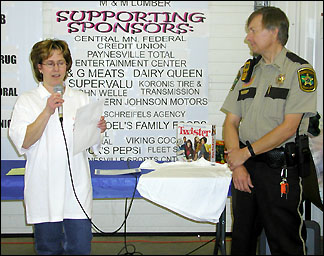 Kantos began working for the D.A.R.E. program after learning first-hand how drug and alcohol abuse can hurt young people. His first girlfriend was killed by a drunk driver.
Greguson believes the D.A.R.E. program has a profound effect on area children. Children like Kantos, and they probably get more from the program because of the affection and respect they have for the teacher, she said.
Kids' Day organizer Dr. Liz Greguson (left) give Stearns County deputy Tim Kantos (right), the D.A.R.E. officer at PAES, and Howard Caldwell, superintendent, an award recognizing their dedication to children.
Saturday's event was one of thousands of celebrations hosted by chiropractic clinics throughout the U.S. and more than eight other countries. The event's theme was health, safety, and environmental awareness for kids.
Before the event was held, the Paynesville City Council approved a proclamation declaring it "Kid's Day" in Paynesville. Acting mayor Dennis Zimmerman read the proclamation to the crowd during the ceremony.
About 120 children and their parents attended the event, which included: the Paynesville Police Department offering fingerprinting and gun safety tips; the Paynesville Area Ambulance promoting bike helmet fittings; the Paynesville Fire Department giving kids an opportunity play firefighter; among other health and safety lessons.
Greguson hopes Kid's Day International will become an annual event in Paynesville. Any money raised at this year's event will go to the Stearns County D.A.R.E. program.
---
Contact the author at editor@paynesvillepress.com • Return to News Menu
Home | Marketplace | Community
---