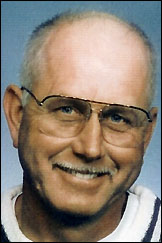 While changing light bulbs in the Atwater-Cosmos-Grove City High School gymnasium in August 2001, James Kascht fell 30 feet to the gym floor. Since his tragic accident, Kascht has been in a coma.

Because of the ongoing strain Kascht's medical condition has put on the family finances in the nearly three years since his accident, family friends are holding a benefit for the Kascht family on Sunday, May 23, at St. Louis Catholic Church from 4-8 p.m.

A benefit will be held for James Kascht on Sunday, May 23, at St. Louis Catholic Church from 4-8 p.m.

After farming for 35 years in Roseville Township, just across the Stearns-Kandiyohi county line, Kascht had worked for ACGC as a custodian and maintenance man before his accident.

Born on a farm in Roscoe, James attended school in St. Martin until third grade. Then he switched to the Paynesville schools, and he graduated from PHS in 1957.

James enjoyed serving in the army and the air force in his younger years. He served a total of six years in the military.

While stationed in Amarillo, Texas, he met his wife-to-be, Irma. They later got married and have now lived on their farm west of Paynesville for 41 years. They have eight children and 13 grandchildren.

When James wasn't busy with his dairy farm, he enjoyed model airplanes, going to air shows, flying to different places, working on motorcycles, going to motorcycle races in Brainerd with his sons, and going to casinos.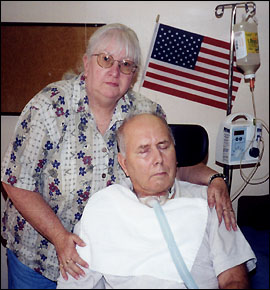 After James retired from farming, he decided to work at ACGC. His daughter Rachel (Kascht) Gilbertson said he retired because farming was becoming too dangerous. Little did he know that he would end up in a coma at his new job, she added.
James Kascht - with his wife Irma - has been hospitalized in a coma for nearly three years, since falling 30 feet in August 2001.
When James fell, he ruptured his aorta, suffered brain damage, punctured a lung, and cracked his ribs. After the fall, he was taken by ambulance to the hospital in Hutchinson. For three weeks, Kascht was treated in the intensive care unit at the Hennepin County Medical Center.
Over the next ten months, Kascht moved to five different hospitals and nursing homes in the Twin Cities.
For almost two years now, Kascht has been a patient at the Hilltop Care Center in Watkins. Irma, very happy with the nursing home, said it is a nice place and that they take very good care of James.
Irma admits that there has been quite a bit of driving and sleeping in waiting rooms since the accident happened. She has been with James through his entire ordeal, visiting him everyday except for four days in nearly three years. She explained that she was sick twice for two days, otherwise she would have been with James everyday.
Irma has spent nearly all her time with James since the accident, said Rachel.
Brian Thorson, the son of long-time family friend Dorrine Thorson, thought a benefit would be a good event to have for the Kascht family right after the accident. However, the family didn't want to have it immediately because they were hoping that James would recover right away.
The benefit is being held now because so many people wanted to help in whatever way they could. According to Dorrine Thorson, organizers have been having very good luck getting donations for the event - from food, to cash, to items for the silent auction.
For the benefit, a dinner of pork sandwiches, beans, chips, coleslaw, pickles, and bars will be served from 4- 8 p.m. at St. Louis Catholic Church. A freewill offering will be taken for the dinner, and the silent auction will be held that night.
Other donations are being accepted at a fund at Farmers and Merchants State Bank.
Irma said she is very touched that so many people want to help. She is very happy to know that somebody is there for the family.
---
Contact the author at editor@paynesvillepress.com • Return to News Menu
Home | Marketplace | Community
---